Lesson Plan
Horse Story: Wild Horses of Shackleford Banks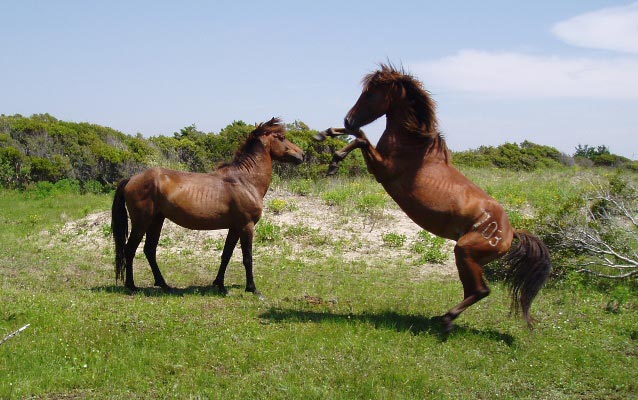 Grade Level:

Sixth Grade-Eighth Grade

Subject:

Ecology, Environment, History, Wildlife Management

Duration:

45 minutes for each session

Group Size:

Up to 24 (4-8 breakout groups)

Setting:

classroom

National/State Standards:

6.L.2.2, 6.L.2.3
7.L.2.2, 7.L.2.3
8.L.3.1, 8.L.4.2, 8.L.5.1

Keywords:

wild horses, wildlife management
Overview
This lesson will educate students (and their teachers) about the horses on Shackleford banks by taking them through the decisions that Cape Lookout National Seashore had to make about the horses.
(These materials are still in the process of being developed.)
Objective(s)
• Students will learn some background information about the horses (arrival and pre-park existence)
• Students will learn why and how decisions were made regarding the horses and what consequences could have been should they have neglected to make those choices.
• Students will build a connection to Shackleford banks and the horses before a field trip to the island to visit the horses.
Procedure
The Ranger will start the lesson by giving students a quick history of how the horses arrived at Shackleford banks and what their lives were like leading up to the park becoming involved. (Assuming a ranger has been requested, otherwise this may be the teacher)
Students will break up into 4-5 main groups (ideally 4-6 students per group).
Each group will be given a slip containing the beginning of the story. Students will read through the passage and face a decision in the end of the passage. Students will work with their group to decide what decision to make.
Once students have made a decision they will receive another passage based on their choice. The passage may contain a task to complete or a continuation of the story based on their choice. If there is a task to complete the students must complete the task before receiving their next passage.
Students who choose a passage that leads to a negative outcome may be told to go back and make a new decision.
Once students complete the story choosing all of the correct paths they will evaluate what they have learned by once again retaking the assessment that was given at the beginning of the lesson.
Assessment
Students will take a pre assessment and post assessment using the same questions to evaluate how much they have gained from the lesson
Students will fill out a post lesson form where they will describe what they would like to know about the horses on their trip to the island and what they expect to see. This will help personalize the trip for the students when they do arrive.
Additional Resources
Several webpages with information on the Shackleford Horses can be found under the Wild Horses landing page.  Teachers are also welcome to use any photos from the Wild Horses photo gallery.
Experience More
on NPS.gov
Lesson Plans
Distance Learning
Field Trips
Topics