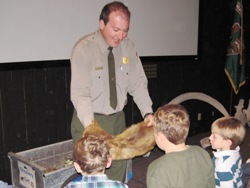 Rangers are available to visit your classroom from October to April! Requests are honored based on staffing requirements and are typically limited to schools within a 2-hour driving distance of the park visitor center on Harkers Island.
Cape Lookout National Seashore offers curriculum-based programs that directly relate park resources to your lessons. Pre-Ranger Visit and Post-Ranger Visit lesson plans are available on our Curriculum Materials webpage.
We will also work with teachers to craft programs that meet their course needs.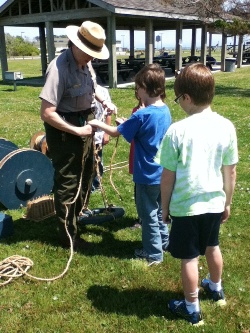 The following programs are currently available:
For more information or to make a reservation, please contact the Education Coordinator at (252) 728-2250 ext. 3002 or e-mail us. Please schedule 2 weeks in advance for existing programs or 6 weeks in advance for alternative program topics.
All programs are offered free of charge.
Youth Groups, Career Fairs, and More!
Park Rangers may also be available to present programs to youth groups, scout groups/packs, after school programs, senior centers, and community centers or to bring displays for a booth at career fairs or other events. Availability depends on driving time, audience size, and staffing requirements.