Permits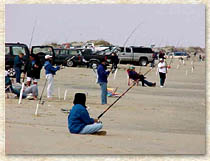 Off Road Vehicle Use requires a permit.
A Special Use Permit is required for activities that provide a benefit to an individual, group or organization, rather than the public at large, and that requires some degree of management from the National Park Service to protect park resources and the public interest.
Examples include:
Religious ceremonies including weddings
Fishing tournaments
Surfing tournaments
Bike tours
Marathons
Car rallies
Public speeches and assemblies (including First Amendment Rights related)
Permit fees vary and are generally in a range between $100.00 and $500.00. However, any activity which requires NPS personnel participation or monitoring, or which creates extraordinary administrative work, will be charged an additional cost for such services. Any damage to park resources including litter cleanup will be billed the full cost for restoration
If any proposed activity warranting a permit requires special or additional services by park employees, additional charges may added to the fee. In addition, the park can impose special restrictions and requirements, including the posting of a bond and providing liability insurance. Once the park has received your request and has assessed the proposed activity, you will be informed at that time if additional charges may be assessed or incurred. Not all requests are permitted activities in the park. You will be told if that is the case. Applications for permits must be received by the park a minimum of four business days before the day of a requested event. If you are issued a special use permit, it does not grant an exclusive use of the place and time stated. The park's visitor areas always remain open to the public. However, permitted uses almost never conflict on time and place, and most areas are large enough to accommodate a number of permitted uses.
Organized parties and receptions are not permitted activities within our park. The park has no pavilions or shelters appropriate for such activities. Such parties are required to seek private facilities outside the park which are plentiful in the surrounding communities.
Our park welcomes all to enjoy the seashore and its many natural and cultural resources. We look forward to seeing you at the Cape Hatteras National Seashore soon!
If you have any questions about the process or your permit, please contact our Special Park Uses Coordinator at (252) 473-2111, Ext. 121. or via email.