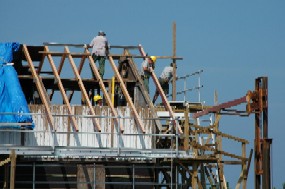 NPS
History, the living, breathing environment of yesterday, is a world that remains alive only through the endurance of its components. Without cultural resources such as historic structures, photographs, artifacts, and written records, that fascinating landscape created years ago would fade and eventually disappear. A guiding principle of the National Park Service is to preserve cultural resources for future generations. The heritage that is engrained in old sites and structures is physically restored and safeguarded through the process of "historic preservation."
Congressional legislation has established procedures for dealing with historic structures within the federal domain. Section 106 of the 1966 National Historic Preservation Act provides controls which ensure that appropriate methods are followed and valuable resources are properly protected. Parks must comply with these guidelines before any physical work on historic structures can begin. A wide range of research must also be completed prior to the start of any actual preservation work. Investigative studies are conducted with the intent of learning as much as possible about the structure or site before the efforts to restore and preserve it begin. Dealing with the cultural and architectural history of a structure, its grounds, and potential environmental impacts on the area, the completed research reports serve as the framework for all future administrative planning and activity.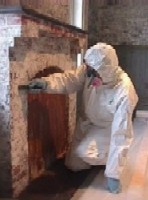 NPS
After project funding has been budgeted, the next stage is the acquisition of necessary materials and equipment, the arrival of the historic preservation team, and the commencement of the actual on-site work. Here the talents of carpenters, masons, painters, and other skilled craftsmen are used to restore the structure to its targeted period. Though original materials are used in duplicating historic work whenever possible, it is often necessary to employ modern tools, supplies, and methods. Either way, painstaking attention to detail, historical accuracy, and an undeniable sense of pride go into the work.
When the preservation project is completed, the structure's new life begins. The nature of that new life depends upon management usage plans. More often than not, these include public enjoyment of the building.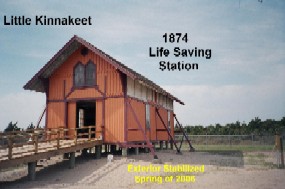 NPS
History has forged a unique and very diverse path through the Outer Banks and reminders of that storied past are still evident throughout the Cape Hatteras National Seashore. Ongoing historic preservation work in the park is dedicated to retaining this rich heritage for future generations. Previous projects include restoration of the: 1930s Civilian Conservation Corps (CCC) cabins in Buxton (park housing), Keepers' Quarters at Bodie Island Light Station (visitor center, museum, and bookstore), Principal Keeper's Quarters (park offices) and the Double Keepers' Quarters (Museum of the Sea) at Cape Hatteras Light Station, Double Keepers' Quarters interior at Ocracoke Light Station (park housing), and the Weather Bureau Station in Hatteras (Outer Banks Visitor's Bureau Welcome Center). Ongoing projects include the Little Kinnakeet Lifesaving Station.