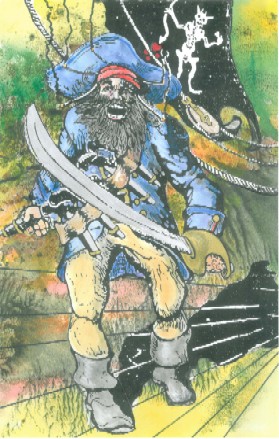 Artistic Credit: Glenn Eure, Glenn Eure's Ghost Fleet Gallery, Nags Head, NC
In battle, Blackbeard was a savage butcher with almost inhuman strength. He intimidated foes by wrapping slow-burning lighted coils in his long, black hair and beard. Wearing two gun belts across his chest and carrying six pistols into battle, he was an unforgettable enemy. Feared by everyone sailing the seas, including his peers, he was without conscience. "Kin to the devil," he showed no mercy as he stole from and often murdered those unfortunate enough to cross his path.
Piracy was as much a state of mind as an occupation. Pirate built their reputations with actions and symbolic gestures. Flags were an important part of creating the total pirate image. Blackbeard's flag, depicting a heart dripping blood while a skeleton held an hourglass and spear, was designed to strike fear in the hearts of his victims. Outlandish names like "Blackbeard" were as important as the manner of dress.
Despite the giant-sized legend his life and times provoked, the golden age of Blackbeard was short-lived and ended in waters near Ocracoke.
Piracy was prevalent in North Carolina since the Colonial Governor, Charles Eden, had been bribed by Blackbeard to ignore the criminal activities. With commercial ships using Ocracoke Inlet to access inland ports, Blackbeard and several other pirates found the coastal waterway ripe for easy pickings. Though pirates anchored in the deep inlet channels and came ashore occasionally on the southern tip of Ocracoke Island, there is no evidence that they built homes or buried treasure here.