2013 Music Fest Performers
Casa Grande Ruins National Monument would like to thank the following sponsors for their funding for performances: Western National Parks Association, Friends of Casa Grande Ruins National Monument, High Spirits Flutes, Canyon Records, and Desert Cloud Flute Circle.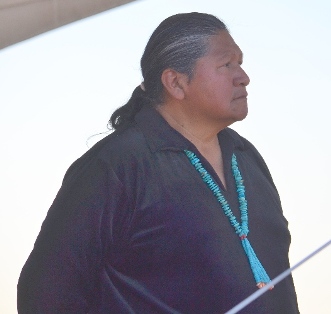 NPS
Master of Ceremonies: Travis Terry
Multiple 'Nammy' (Native American Music Award) Award Winner, and High Spirits recording artist. Travis Terry is Akimel O'odham. He was born in Sacaton, Arizona and is a member of the Gila River Indian Community. We are honored to have him serve as our Master of Ceremonies for the Music Fest. Surrounded from childhood by music and instruments of long ago, Terry is a self-taught musician. He writes the majority of songs he performs with inspiration from his indigenous O'odham culture, the heritage of the Dine' (Navajo), and his love of special places such as Canyon de Chelly, where he now lives with his wife Cara, a proud member of the Navajo Nation. Travis' CDs-Monument Valley, Canyon Shadows and Echoes of the Canyon Wall-will be available at the Music Fest. His other recordings include Navajoland with Alain Briot and Sacred Places, a DVD produced at USS Arizona Memorial.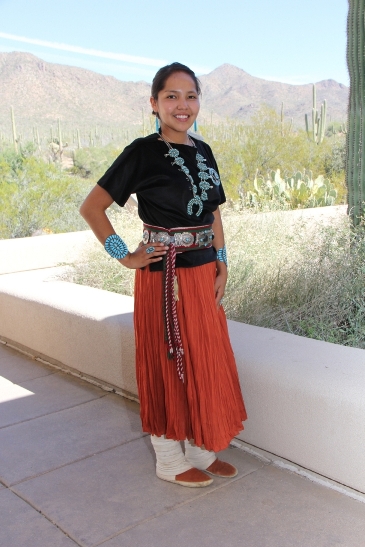 courtesy photo
Featured Artist: Krishel Augustine
Krishel, former Miss Ramah Navajo Princess, will perform special child and family friendly music as part of the 2013 Festival's expanded offerings for children. Krishel introduces herself this way: "My name is Krishel Augustine, I am Navajo, and am 17 years old. I am the tangle clan born for the towering house people, my maternal grandparents are the Apache people and my paternal grandparents are the Zuni people. I am from Ramah, New Mexico. I have been singing since I was 13 years old. I started singing the National anthem at various events then I was inspired by my family to start composing my own songs. I wrote a song for the National Park Service called the "Junior Ranger", which went nation-wide to all the National Parks. I have a lot of respect for my culture. I come from a family that is very traditional and am very fortunate to have a strong culture that keeps me on the right path. Ahee'hee"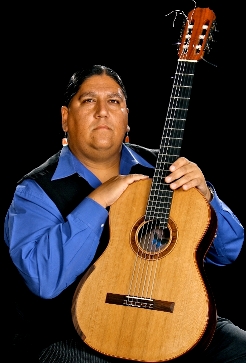 courtesy photo
Featured Artist: Gabriel Ayala
A member of Yaqui people of southern Arizona, Gabriel Ayala is at the forefront of a new generation of Native Americans making a career performing classical music. He earned a Master's Degree in Music Performance from the University of Arizona and has taught at all educational levels. He performs internationally and has appeared at the Poway Center for Performing Arts, John F. Kennedy Center for the Performing Arts, the National Museum for the American Indian, the Festival Internacional de la Guitarra Academica in Venezuela, and in the Musical Instrument Museum series called "Guitar Masters" in 2010. Ayala has been widely recognized for his achievements, including the Native American Music Awards "Best Instrumental CD" and the Canadian Aboriginal Music Awards "Best World Music." His newest release is Passion, Fire & Grace, a CD which showcases the genre "JazzMenco" created by Gabriel. You can learn more about Gabriel Ayala by visiting his website www.ayalaguitarist.com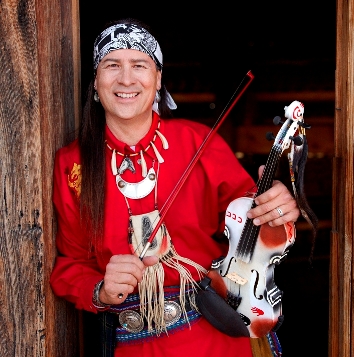 courtesy photo
Featured Artist: Arvel Bird
Recording artist, Arvel Bird, a violinist and Native American flutist, is known around the world for his dramatic connection between American Indian and Celtic traditions. Dubbed "Lord of the Strings" by fans and music critics, his music evokes the soul of North American history and is thoroughly entertaining, enlightening and humanizing. Arvel has released 20 CDs and two DVDs which reflect his continuously evolving music, delighting audiences worldwide, and earning him numerous music awards -- from Best Instrumental Album and Best Producer/ Engineer (with Grammy-winning producer Tom Wasinger and Nashville engineer Chas Williams) at the Canadian Aboriginal Music Awards for Tribal Music Suite: Journey of a Paiute, to Artist of the Year by his fans and peers at the Native American Awards to Best Contemporary Album at the Indian Summer Music Awards. Although based in Nashville, Bird is permanently on the road and touring worldwide, connecting with audiences the old-fashioned way. . . live.
You may enjoy visiting his website at www.arvelbird.com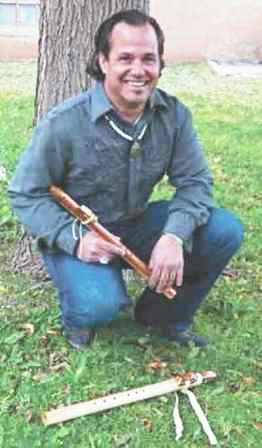 courtesy photograph
Featured artist: Tim Blueflint
Tim Blueflint Ramel is a Native American fluteplayer, dancer, and singer from the Bad River Chippewa and Comanche. It was Grandmother Blackstar who presented Tim Blueflint with his first flute many years ago. The result of this gift has been the enchantment and delight of many audiences who have described his music as "breathtakingly pure and traditional…" Realizing the beauty and honor of his Native American heritage, he is dedicated to the preservation of the traditions and arts of his ancestors as has received from his "Sure-Enough" Grandmother, Blackstar (Comanche), a Holy Woman for her People and renowned silversmith. Also an avid Native American Dancer and Singer, Tim was highly regarded and sought after as an exhibition dancer at many pow-wows in the West. He has been a champion Hoop and Fancy Dancer, as well as a respected singer with traditional drum groups. Performance sponsored by Desert Cloud Flute Circle of Southern Nevada.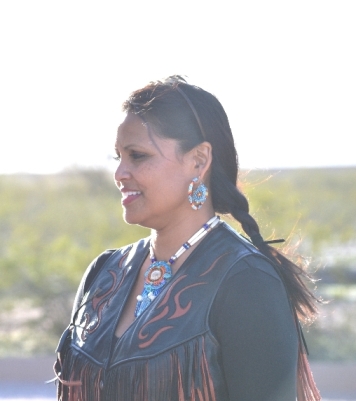 NPS
Featured Artist: Rona Yellow Robe and Bruce Witham
Vocalist and Native American flutist, Rona Yellow Robe-Walsh is of the Cree Nation of Saskatchewan Canada and an enrolled member of the Chippewa Cree Tribe of Rocky Boy, Montana. Rona is known for her powerful vocal ability, Native American Flute style and heart filled presence. It is by playing the Native American flute, which she refers to as "her other voice," that she has become comfortable sharing aspects of her life that are personal to her with all audiences. Rona has received many accolades including "Best Stage Performer" at Pacific Northwest Flute Quest 2009 and was 2008 RNAF Indigenous Flute Scholarship Recipient. Her popular CD, Voice of the Trees, by Deer Star Productions 2009 will be available for sale and autograph at the Fest. Additional information about Rona is available online at: www.RonaYellowRobe.com
NPS
Featured Artist: Loren Russell
Loren Russell is Akimel O'odham (Pima) of the Gila River Indian Community. Mr. Russell is well acquainted with the traditions of the Akimel O'odham and many other American Indian tribes. He has performed as a storyteller and a musician at Casa Grande Ruins National Monument for several years. Currently, he is a Storyteller/Fluteplayer at the Sheraton Wild Horse Pass Resort. As a member of the National Storytelling Network, he has performed at the Swapping Grounds at the International Storytelling Festival in Jonesborough, Tennessee and as a featured Storyteller at the Mable Springs Storytelling Festival (a sanctioned Dogwood Arts Festival Event) in Knoxville. He is a member of the Arizona Flute Circle in Phoenix and is the grandson of Arizona Women's Hall of Fame member, Anna Moore Shaw.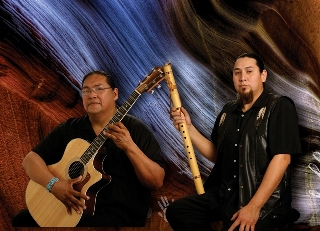 courtesy photograph
Featured Artists: Aaron White and Anthony Wakeman
Etched in the Native traditions of Mother Earth, the music of Aaron White (Navajo/Ute) and Anthony Wakeman (Pottawatomi/Lakota) call to the heart and soul of all life. Aaron White, a founding member of Grammy nominated Burning Sky, and acclaimed cedar flutist Anthony Wakeman will perform a set of introspective songs meant to heal the heart and soul. Like a cascade of water trickling through canyons mixed with winds swirling up from the prairies, the sounds of acoustic guitar and cedar flute summon inner calm and quiet strength. Their new CD, Handprints of our People, will be available for purchase and autographs.