Field Trip Program
Talking Timelines at Casa Grande Ruins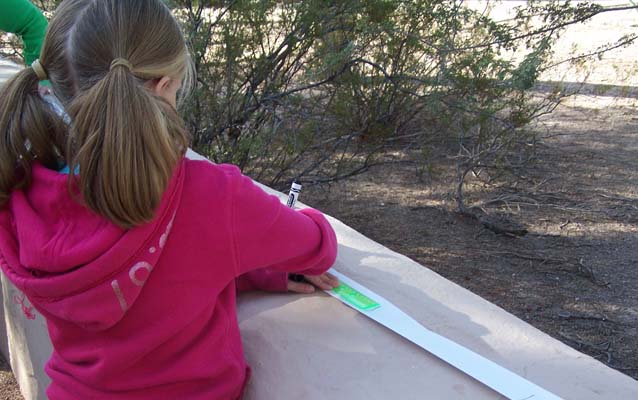 NPS
Description
Discover and investigate the wonders of Casa Grande Ruins National Monument. At your morning arrival your group of 50 students total (maximum) will be divided into smaller workgroups. Workgroups rotate through several learning stations including visiting the Great House, creating a timeline, viewing the park film, and visiting the museum, depending on your time, interests, and requests. Students should expect to be outside most of the visit and plan accordingly. Water bottles, hats, sunscreen, and appropriate clothing are a MUST have for each person.
Each workgroup of 5 to 7 students will stay with their assigned chaperone throughout their entire park visit (all groups must have adult chaperones with a ratio of one adult per 5 to 7 students, for example a group of 50 students would be expected to bring 7 to 10 chaperones). This is to provide a positive learning experience, respect the rights of other visitors, and protect the important resources we manage.
Our main program requires at least one and one half hours to work with the students and can be followed by lunch in the park picnic area. We would most prefer two hours with the students followed by lunch.
Students may be asked to work with their chaperone without a ranger or volunteer guide.
The topics that will be covered include include Hohokam Culture agriculture and plant use, Hohokam Culture trade, and the building and use of the Casa Grande. Students will work in their groups to create a 30 foot timeline of events stretching from pre-history to modern times.
While the students are in the park they will be reminded:
-Please respect the environment during your visit. This includes plants, animals, the ruins, other people and yourself. Even the park rattlesnakes are part of the park environment and should not be harmed or harassed.
- Please stay off the walls and the ruins. Archeological sites are very fragile. Sitting, climbing, jumping over, or crawling over the ruins is not an acceptable behavior. The ruins are not a playground.
- Please leave artifacts where you find them. If you see a piece of pottery or other artifact, tell a ranger. We'll examine it together and leave it in place. Where and how it is found may be just as important as what is found.
- Please don't share your food with the ground squirrels. They will eat it but it isn't good for them.
- Please don't add any graffiti to the ruins. What would your parents say if you wrote on the walls at school or at home?
- Please stay out of the closed areas unless you are with a ranger. These areas are closed because they are fragile. We also want you stay safe and the closed areas are less safe than the public areas of the park.
As you make your plans you are reminded:
-Please make reservations at least three weeks in advance of your intended arrival. You will need at least one and one half hour for a group of 20 to 50 students. Maximum group size is 50 students.
-A minimum of one adult chaperone per five to seven students is mandatory. Each chaperone must supervise the students specifically assigned to them at all times.
-Please inform all adults and students of above reminders prior to your visit.
-BUS PARKING is located east of the visitor center past the service entrance road. Please have the bus park so students can unload onto the sidewalk and inform bus drivers that they must turn off their engines during the visit.
-BEFORE students are unloaded from the bus, the group leader should inform a ranger at the front desk that the group has arrived.
-Please keep students on the sidewalks to avoid accidents in the parking lot area.
-Entrance fees can be waived for teachers and chaperones accompanying qualified educational groups. Fee waivers must be requested at least two weeks before the scheduled visit.
Contact
Diane Garcia
(520) 723-3172 extension 111
Details
Subject:

American Indian History and Culture, Anthropology, Archaeology, Architecture, Art, Biology: Plants, Botany, Commerce and Industry, Community, Environment, Family Life, Geography, Historic Preservation, History, Hydrology, Inventions / Inventors, Landscapes, Regional Studies, Social Studies, Sociology

National/State Standards:

American History:  AZ Strand 1: Concept 1: PO 1, PO 2, PO 3
American History:  AZ Strand 1: Concept 2: PO 1, PO 2, PO 5
American History:  AZ Strand 1: Concept 3: PO 2
Visual Arts: AZ Strand 1: Concept 1: Create, Strand 2:Relate

type:

Field Trip Program
Experience More
on NPS.gov
Lesson Plans
Distance Learning
Field Trips
Topics