Visitor Center Rennovations

Park is having major electrical and heating/cooling system work done. The Visitor Center will be closed until late June but restrooms, movie auditorium, historic ruins area, and picnic area will remain open (no fees or pass sales during rennovation).
Examine the Mysteries of the Ruins
Hand-on learning with fees waived and materials provided! Learn about Hohokam Culture agriculture and plant use, Hohokam Culture trade, and the building and use of the Casa Grande. Reservations 3 weeks in advance required. Student activities are outdoors- plan morning visits. Program requires at least one and one half hours; we prefer two hours. Come explore!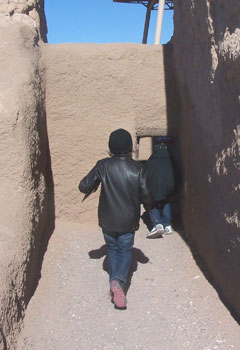 Features
Puppets and Preservation

Younger students (K-2) learn about preservation, protection, and the Hohokam Culture through a puppet show and other age appropriate activities

Read More

Culture, Crafts, Corn

What would life be like back in the time of the Ancestral Desert People? Work on chores, crafts, and games 1350s style (grades 3 to 5)

Read More

Talking Timelines

Where does the Hohokam Culture fit into our history? How did the Ancient Desert People's accomplishments compare to other contemporary cultures?

Read More