Sections of Boardwalk Closed at Red Maple Swamp Trail

Sections of the boardwalk at the Red Maple Swamp Trail have been closed due to structural deterioration and safety concerns. Check at Salt Pond Visitor Center for the current status of this trail, and for your safety, remain out of closed areas.
Fort Hill GPS Quest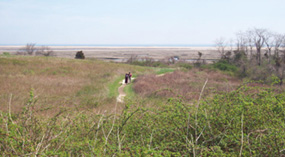 Quest at Fort Hill
Description: self-guided, GPS and compass information scavenger hunt. Distance: 1½ miles Time: approximately 2 hours
Your quest is to discover why Fort Hill is nationally significant. Its designations include Nauset Archeological District National Historic Landmark and Fort Hill Rural Historic District. Additionally, it contains a house listed on the National Register of Historic Places. Why should people care about Fort Hill? What makes it special enough that the National Park Service decided to include it within the protected boundaries of Cape Cod National Seashore? It is your job to find out. Use your GPS to explore the trails and features of the area. The Fort Hill Quest brochure provides clues and questions about each waypoint.
Click here for the Fort Hill Quest brochure and get started!
List of Coordinates:
Q001 N41 49.137 W69 57.877
Q002 N41 49.197 W69 57.870
Q003 N41 49.218 W69 58.028
Q004 N41 49.298 W69 57.947
Q005 N41 49.332 W69 57.800
Q006 N41 49.305 W69 57.752
Q007 N41 49.285 W69 57.728
Q008 N41 49.175 W69 57.608
Q009 N41 49.148 W69 57.592
Q010 N41 49.090 W69 57.715
Q011 N41 49.102 W69 57.930
Q012 N41 49.108 W69 57.947
Q013 N41 49.125 W69 57.922
Did You Know?
Cape Cod National Seashore is one of the most important nesting areas for the federally-threatened Piping Plover. Abundant in the 19th century, the beach-nesting Piping Plover declined in the 20th century, but have begun to recover as a result of active protection and visitor education.