Access to the Coast Guard Beach in Eastham will be closed Tuesday, May 21.

Access to the Coast Guard Beach in Eastham will be closed Tuesday, May 21, from 6:00 AM to 3:00 PM so seashore staff can create an accessible path in advance of the summer season.
Storm damage, construction affecting access at seashore locations; reduction in programming

Due to erosion, there is no beach access at Nauset Light and Marconi beaches. Access at the Marconi Site is limited. Parts of the Nauset Marsh and Red Maple Swamp trails are closed. Nauset Bike Trail construction is underway. More »
Cape Cod National Seashore Lifeguard Program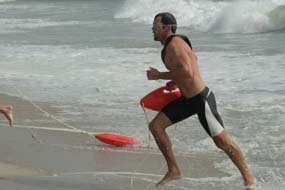 NPS photo
Cape Cod National Seashore employs approximately 50 lifeguards to cover six protected beaches. The lifeguard employment turnover rate is roughly 10% to 20% annually which results in 5 to 10 openings to fill each year.
The lifeguard season starts in mid-June and ends on Labor Day. All lifeguards work 40 hours per week and 5 days per week. The work day is from 09:00 hrs. to 17:30 hrs. Housing is available to rent through the Seashore.
QUALIFICATIONS
Applicant must be 17 years old before the first day of employment.

Applicant must have six months (calculated as 32 hours per week for six months or the equivalent number of hours, 832) of general work experience. This does not have to be lifeguarding experience.

Applicant must complete a physical fitness pre-test which consists of a 600 yard swim in less than 10 minutes, a 1.5 mile run in under 12 minutes, and a 125 foot underwater swim with only four breaths.

Applicants must pass a urinalysis drug screening.

Applicant must pass a Federal Bureau of Investigation criminal background check.

On the first day of employment, applicant must pass a swim-run test consisting of a 500 yard ocean swim followed immediately by a ½ mile run, in under 20 minutes.
HOW TO APPLY
CCNS lifeguard openings are posted at http://www.usajobs.gov along with all the other federal civilian jobs. Positions are posted between late February and early March. The last date for applications is in late April. Applicants have 6 to 8 weeks to apply.
Officially, there are several methods to submit a completed application. We highly recommend the use of the usajobs.com application manager to create a resume and submit an application online.
Did You Know?

The Pamet Cranberry Bog in Truro was once an operating commercial bog. Workers, some of whom in later years were of Cape Verdean descent, maintained and harvested the bog from the 1880s until 1961.