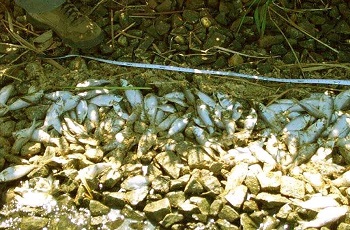 Cooperation leads to the beginning of restoration
An oxygen depletion and fish kill in September 2001 prompted the Town of Truro and Cape Cod National Seashore to investigate options for restoring the East Harbor system. Attention turned to the drainage pipe that connects East Harbor to Cape Cod Bay. This ~700-ft long, 4-ft diameter culvert had been fitted with clapper valves that allowed freshwater to drain out of East Harbor, but prevented marine tides from flowing back into the system.
In hopes of restoring some tidal exchange and improving water quality, the Seashore and the Town opened the clapper valves, and they have remained open continuously since November 2002. Despite limits on tidal exchange imposed by the pipe's small diameter, and the distance that it travels underground, we have observed an impressive response in the recovery of salinity and estuarine biota.