ARLC Research

Photo by Megan Tyrrell
ARLC research partners are typically from academic institutions, state and federal agencies, and non-profit conservation science organizations. Individuals working at the ARLC range from senior principal investigators to post-doctoral fellows and graduate and undergraduate students.
The questions pursued by ARLC research partners are wide-ranging and span a number of physical, chemical, and biological disciplines. Researchers at CCNS have access to an active inventory and monitoring program, Cape Cod Ecosystem Monitoring (CCEM), which has collected decades of long-term monitoring data. CCEM data provide resource status and trend information, which can serve as context for research activities and results. In turn, ARLC research results help describe the cause & effect relationships in observed changes to park resources.
Together, ARLC and CCEM efforts advance coastal ecology science and contribute critical natural resource information important to science-informed management of CCNS.
Cross-cutting priority research themes being pursued by the ARLC include:
local effects (eg. coastal erosion, habitat degradation) of global/hemispheric processes (eg. climate change, sea level rise, atmospheric deposition)
importance of CCNS to migratory species, especially threatened and endangered migratory birds
effectiveness and effects of restoring anthropogenically (human-caused) degraded habitats
nutrient dynamics in aquatic systems and the relative influences of atmospheric, groundwater, and oceanic inputs
Please use the links in the left sidebar to navigate through the Research section of the ARLC site. You can learn about research needs and opportunities, internship and fellowship opportunities, how to obtain a research permit, available facilities, and view various posters, resource briefs and reports. The map below showcases some our current research projects with partner organizations.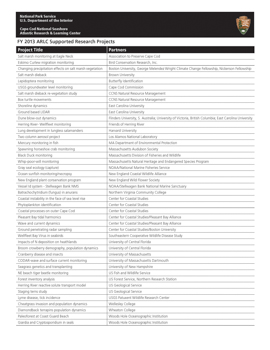 A flyer listing our current research projects with partner organizations (click to view full size)