Nauset Bike Trail partial closure in effect

The Nauset Bike Trail between Salt Pond Visitor Center and Tomahawk Trail will be closed from October 30 to mid-December for rehabilitation. No bike or pedestrian access will be allowed during this time.
Access at seashore locations

The Nauset Marsh Trail bridge was destroyed in a storm last winter. For current conditions, check at the Salt Pond Visitor Center. More »
Cape Cod National Seashore: Natural and Cultural Treasures
Find unique opportunities for your students to experience America's natural and cultural treasures: beaches, dunes, salt marshes, ponds, coastal forests, wildlife, Pilgrims, cranberries, lighthouses and cultural stories. Use our Parks as Classrooms materials with your students to investigate the health of our coastal ecosystems and experience the richness of Cape Cod's history.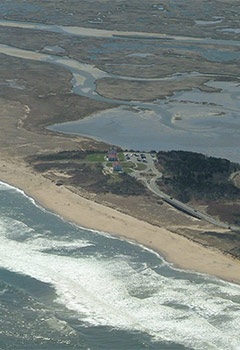 Features
Beaches in Motion

Beaches are constantly changing; evaluate their vulnerability to climate change events. Use our lesson plan to investigate and predict change.

Read More

Teaching with Historic Places

Penniman House: A Whaling Story

Read More

Your Connection to Seashore Science

The park's Atlantic Learning Center brings the public, researchers, and park staff together to further science and education.

Read More