Sections of Boardwalk Closed at Red Maple Swamp Trail

Sections of the boardwalk at the Red Maple Swamp Trail have been closed due to structural deterioration and safety concerns. Check at Salt Pond Visitor Center for the current status of this trail, and for your safety, remain out of closed areas.
Cell Phone Interpretation Program at Cape Cod National Seashore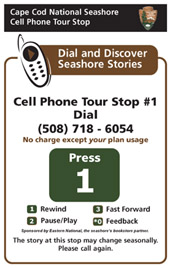 The national seashore's cell phone interpretation program provides 24/7 access to some of the park's most compelling stories and resources. Look for "Dial and Discover" signs at various seashore locations. Some stops have QR codes and web links for smartphone users. Visitors with hearing or mobility difficulties can pick up a printed script at the visitor centers. The cell phone tour program is provided by Eastern National, operating stores with books, maps, games, apparel and other interpretive items in both national seashore visitor centers.
Dial (508) 718 - 6054
Stop 1) Province Lands Visitor Center, off Race Point Road, Provincetown, observation deck Topic: virtual tour from the observation deck
Stop 2) Salt Pond Visitor Center, on the rear terrace Topic: the historic hay barge
Stop 3) Fort Hill, off Route 6, Eastham, at the upper parking lot Topic: Fort Hill history and resources
Stop 4) Marconi Station Site, off Route 6, Wellfleet Topic: the birth of global, wireless communiction
Stop 5) Coast Guard Beach, Eastham Topic: shorebird migration

Stop 6) Coast Guard Beach, Eastham Topic: shipwrecks

Stop 7) Nauset Light, Eastham Topic: Nauset Light
Stop 8) Southern tip of Coast Guard Beach, Eastham Topic: shorebird protection
Did You Know?

In 1903, Guglielmo Marconi transmitted the first transatlantic wireless message from the United States to Great Britain from Cape Cod.