Nauset Bike Trail partial closure in effect

The Nauset Bike Trail between Salt Pond Visitor Center and Tomahawk Trail will be closed from October 30 to mid-December for rehabilitation. No bike or pedestrian access will be allowed during this time.
Access at seashore locations

The Nauset Marsh Trail bridge was destroyed in a storm last winter. For current conditions, check at the Salt Pond Visitor Center. More »
Cape Cod National Seashore 50th Anniversary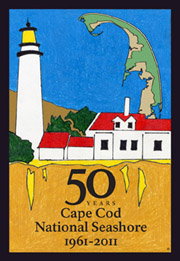 "A man may stand there and put all America behind him." Henry David Thoreau
The great Outer Beach described by Thoreau in the 1800s has been protected since 1961, when President Kennedy signed legislation establishing Cape Cod National Seashore. Forty miles of pristine sandy beach, marshes, ponds, and upland forests support diverse species of plants and animals. Lighthouses, cultural landscapes, and wild cranberry bogs offer a glimpse of Cape Cod's past and continuing ways of life. Swimming beaches, waterways, and walking and biking trails provide recreational opportunities for today's visitors. As a unit of the U.S. National Park System, Cape Cod joins over 390 other sites that protect our nation's natural and cultural heritage for future generations.
Beginning in January 2011 the National Park Service, its partners, and local communities began hosting events to commemorate the establishment of this remarkable park.
August 7, 2011 50th Anniversary Celebration Events Schedule
50th Anniversary Events Calendar for 2011 as of June 1, 2011
50th Anniversary Press Releases
50th Anniversary Challenge Treasure Hunt booklet - There are no hidden "pieces of eight," but you can discover some of the lesser-known gems in the national seashore on this quest developed by Friends of the Cape Cod National Seashore for the 50th anniversary. Answer the hunt's 80 questions and send in your answers by September 30 for a chance to win a prize! Pick up a free Challenge Hunt booklet at either park visitor center.
Cape Cod National Seashore Online Memories Album - Many people hold special memories of time spent at Cape Cod National Seashore. Our 50th Anniversary Seashore Memories Album provides opportunities to share these special times with others. Take a moment to browse through your photos and memories of your Cape Cod National Seashore adventures. Then, follow the link above to upload them. Images should contain people and a recognizable feature, overlook, or sign that connects the image to Cape Cod National Seashore. Sponsored by Friends of the Cape Cod National Seashore.
Cape Cod National Seashore 50th Anniversary Employee and Alumni Reunion website
Heaven in Reach: 50th anniversary song composed by Vicky McKee (copyright Vicky McKee; guitar and vocals by Vicky McKee, lead guitar Jem Vipond)
Related Links:
John F. Kennedy Presidential Library and Museum, Boston
Did You Know?

An abundance of sandy soil and shallow freshwater ponds for breeding make Cape Cod National Seashore an ideal landscape for Spadefoot Toads. A Threatened Species, the Seashore supports their largest known population in the Northeast. Some park roads are closed on rainy nights to protect them.