Fee Collection for Backcountry Permits

Navajo Nation Parks & Recreation Dept (NPRD) has a new office at the Cottonwood Campground. NPRD who manages the canyon tour operations will be collecting fees for the backcountry permits starting May 1, 2014. Call NPRD at 928-674-2106 for information.
Photo Gallery
Did You Know?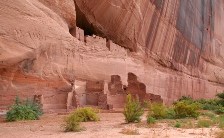 Canyon de Chelly National Monument is comprised entirely of Navajo tribal trust land with a resident community within the canyons. A backcountry permit and authorized guide are required to enter the canyon except for the White House Trail.