Fee Collection for Backcountry Permits

Navajo Nation Parks & Recreation Dept (NPRD) has a new office at the Cottonwood Campground. NPRD who manages the canyon tour operations will be collecting fees for the backcountry permits starting May 1, 2014. Call NPRD at 928-674-2106 for information.
Overlooks on North Rim Drive
Did You Know?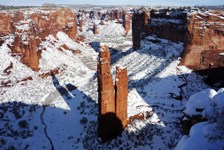 The name of Canyon de Chelly was derived from the misspelling and mispronunciation of the Navajo word for the canyon. The Navajos call the canyon "Tseyi" which is pronounced 'say-ee.' Eventually the word became "de Chelly" which is pronounced as 'de-shay'