Cabrillo National Monument Theater Closed on Selected Dates

Due to National Park Service alternate uses, the Cabrillo National Monument theater will be closed to the public on the following dates: October 28 all day, October 29 9am-12pm, November 6, 2014 12pm-5pm. We are sorry for the inconvenience.
Volunteers in Action
Did You Know?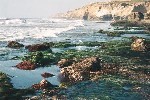 Did you know that the tidepools at Cabrillo National Monument are one of the last and best-preserved rocky Intertidal areas open to the public in Southern California?