Lighthouse Will Be Closed for Seismic Retrofit April 7 through May 16

The Lighthouse is undergoing a Seismic retrofit and will be closed from April 7 - May 16. Visitors can still access the Assistant Keepers Quarters exhibit from the south door, Lighthouse Comfort Station, and Kelp Forest Overlook. Call 619-557-5450.
Visitor Center Scheduled to be Closed May 19 through June 16

The Visitor Center will be undergoing a Seismic Retrofit and will be closed. Visitors will still be able to access the Auditorium, Ballast View and the East Patio. These dates are subject to change. Please call 619 557-5450 for updated information
Join Our Friends
The Cabrillo National Monument Conservancy (CNMC) is an organization initiated on the 4 of July, 2012 by a group of folks who believed it would be financially advantageous to Cabrillo National Monument (CNM) to complete its circle of national program-level non-profit partners by adding a friends group, which can assist fundraising in ways not open a Cooperating Association or the Volunteers-in-Parks (VIP) program. CNMC's goal is to expand fundraising to support our park while enhancing CNM's connections with the community - be it San Diegans or all of CNM's national and international visitors.
CNMC became a corporation on the 31 of January, 2013 with a mission to work with the CNM and its partners to conserve the natural resources and cultural heritage of CNM and the National Park Service (NPS), and to promote education. We work in collaboration with CNM's other supporting non-profit partners: the VIP and Cabrillo National Monument Foundation (a cooperating association). You may learn more about CNMC at http://friendsofcabrillo.com.


Did You Know?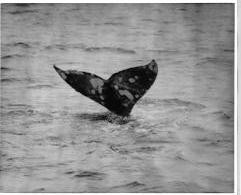 Did you know that Pacific Gray Whales can dive to more than 200 feet and can stay underwater for as long as 20 minutes?