Lighthouse Will Be Closed for Seismic Retrofit April 7 through May 16

The Lighthouse is undergoing a Seismic retrofit and will be closed from April 7 - May 16. Visitors can still access the Assistant Keepers Quarters exhibit from the south door, Lighthouse Comfort Station, and Kelp Forest Overlook. Call 619-557-5450.
Visitor Center Scheduled to be Closed May 19 through June 16

The Visitor Center will be undergoing a Seismic Retrofit and will be closed. Visitors will still be able to access the Auditorium, Ballast View and the East Patio. These dates are subject to change. Please call 619 557-5450 for updated information
Bookstore
Looking for a book on Juan Rodriguez Cabrillo and his explorations? A children's book on park rangers? Posters? Unique gift ideas? The non-profit Cabrillo National Monument Foundation operates the Bookstore inside the Visitor Center here at Cabrillo National Monument, and features a wide variety of educational items. Click
here
to learn more.


Did You Know?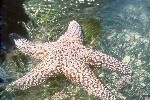 Did you know that delicate-looking tidepool creatures at Cabrillo National Monument are actually very hardy, and have adapted well to harsh conditions of pounding surf, intermittent exposure to sun and drying wind, and sharp changes in temperature and salinity?