Lighthouse Will Be Closed for Seismic Retrofit April 7 through May 16

The Lighthouse is undergoing a Seismic retrofit and will be closed from April 7 - May 16. Visitors can still access the Assistant Keepers Quarters exhibit from the south door, Lighthouse Comfort Station, and Kelp Forest Overlook. Call 619-557-5450.
Visitor Center Scheduled to be Closed May 19 through June 16

The Visitor Center will be undergoing a Seismic Retrofit and will be closed. Visitors will still be able to access the Auditorium, Ballast View and the East Patio. These dates are subject to change. Please call 619 557-5450 for updated information
National Parks Week

Come Join us during National Parks Week April 19-27. You can see the schedule here. More »
Artist-In-Residence
Download the Artist In Residence (AIR)Flyer
Open AIR Application: April 2014 (see information below)
Deadline for Artist-in-Residence is April 30th 2014, 5:00pm PST
Application should include
-Statement of Intent
-Resume
-Portfolio of work
Applications can be sent either electronically to:
physically to:
Cabrillo National Monument
Attn: Artist-in-Residence
1800 Cabrillo Memorial Dr.
San Diego Ca 92106
or in person:
Drop off at the Cabrillo Visitor Center
Applications to be reviewed by committee early May. Interviews conducted end of May early June. Selection made by July 2014
Bill Griswold
Bill Griswold is a free lance fine art photographer who has exhibited many photographs in juried exhibits including the International Exhibition of Photography and the San Diego Nature Exhibit at the San Diego Natural History Museum. He has won photographic awards including first place in the San Dieguito River Valley Conservancy Photo Contest. His photographs of Cabrillo have been published in the book "The Life of Point Loma". His photograph of Manzanar appears in the 2013 Calendar of the National Historic Landmarks. He recently published a photographic children's book entitled "Mother Duck Helps Her Babies" which is available as an iBook.
Over the past 25 years he has developed a collection of over 100 photographs of Cabrillo National Monument. He began this project using a 4x5 view camera with black and white film. He later switched to color film in order to capture the beautiful sunsets and vistas at the Monument. A few years ago he began using a digital camera.
Bill says "Cabrillo National Monument, with its iconic landmarks, dramatic coast and grand views of the Pacific Ocean, is one of the most beautiful places in the National Park System. I am excited about the opportunity to photograph at Cabrillo as Artist-in Residence."
Did You Know?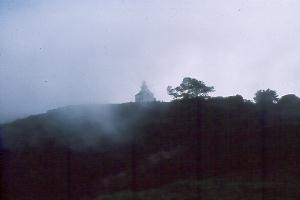 Did you know that the Old Point Loma Lighthouse at Cabrillo National Monument was only in service for 36 years? Due to its hilltop location, the light was frequently obscured by low clouds and fog, forcing construction of a new lighthouse closer to the water.