Military History Building Closed until March 10, 2014

The Military History Building is undergoing a Seismic Retrofit (Earthquake Safety) and will be closed through 3/10/14. We apologize for this inconvenience.
Interior of Lighthouse Will Be Closed for Seismic Retrofit

The Lighthouse is undergoing a Seismic retrofit (earthquake safety). It is still open to the public, while the basement is worked on. The interior of the lighthouse will be closed once the basement is completed. Please call (619) 557-5450 for info.
Artist-In-Residence
William Griswold AIR 2013

Bill Griswold is a free lance fine art photographer who has exhibited many photographs in juried exhibits including the International Exhibition of Photography and the San Diego Nature Exhibit at the San Diego Natural History Museum. He has won photographic awards including first place in the San Dieguito River Valley Conservancy Photo Contest. His photographs of Cabrillo have been published in the book "The Life of Point Loma". His photograph of Manzanar appears in the 2013 Calendar of the National Historic Landmarks. He recently published a photographic children's book entitled "Mother Duck Helps Her Babies" which is available as an iBook.
Over the past 25 years he has developed a collection of over 100 photographs of Cabrillo National Monument. He began this project using a 4x5 view camera with black and white film. He later switched to color film in order to capture the beautiful sunsets and vistas at the Monument. A few years ago he began using a digital camera.
Bill says "Cabrillo National Monument, with its iconic landmarks, dramatic coast and grand views of the Pacific Ocean, is one of the most beautiful places in the National Park System. I am excited about the opportunity to photograph at Cabrillo as Artist-in Residence."
Did You Know?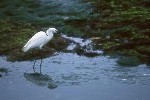 Did you know that over 200 species of birds have been recorded at Cabrillo National Monument, including land, shore, and sea birds.