Visitor Centers
The Visitor Center at Cabrillo National Monument is the perfect place to get oriented to the park. Rangers and volunteers are always available to answer questions and provide suggestions on what to do. Here you can:
Find the day's schedule of auditorium programs and ranger talks
Get your National Parks Passport book stamped
Chat with a ranger
Pick up a Junior Ranger activity for kids
Check out the day's weather forecast
Find out when low tide is
Obtain a Golden Access Passport
Look through the bulls-eye of a lighthouse lens
See the California relief map and find other National Parks in the state to visit
Get a hands-on feel for 16th century armor and navigational instruments
Come in out of the elements if it's foggy, raining, or windy outside
Make your educational and souvenir purchases in the Cabrillo National Monument Foundation Bookstore


Did You Know?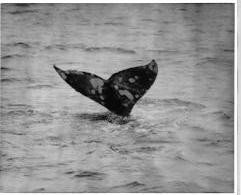 Did you know that Pacific Gray Whales make one of the longest migrations of all mammals? They travel approximately 12,000 miles from the Arctic to Baja California and back again, and can be seen on their southward migration from Cabrillo National Monument.