Visitor Center Scheduled to be Closed Until August 8

The Visitor Center is undergoing a Seismic Retrofit. Visitors will still be able to access the Auditorium, Ballast View and the East Patio. These dates are subject to change. Please call 619 557-5450 for updated information
Trash Free and Smoke Free Park
Cabrillo National Monument is now a smoke-free and trash-free park.
Smoking is not permitted anywhere on the park grounds, including the tidepools, trails and parking lots. Smoking is also prohibited in all buildings.
In November 2010, the park became "trash-free" with the removal of 95% of the garbage cans and recycling bins from the grounds. Please help us maintain our "trash-free" park by packing out whatever you bring in.
Did You Know?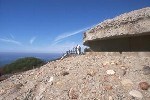 Did you know that in World War II, the Japanese Navy was ordered to avoid San Diego because of the coastal defense systems in place, some of which can still be seen today within Cabrillo National Monument?