Cabrillo National Monument Theater Closed on Selected Dates

Due to National Park Service alternate uses, the Cabrillo National Monument theater will be closed to the public on the following dates: October 28 all day, October 29 9am-12pm, November 6, 2014 12pm-5pm. We are sorry for the inconvenience.
Trash Free and Smoke Free Park
Cabrillo National Monument is now a smoke-free and trash-free park.
Smoking is not permitted anywhere on the park grounds, including the tidepools, trails and parking lots. Smoking is also prohibited in all buildings.
In November 2010, the park became "trash-free" with the removal of 95% of the garbage cans and recycling bins from the grounds. Please help us maintain our "trash-free" park by packing out whatever you bring in.
Did You Know?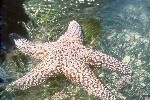 Did you know that delicate-looking tidepool creatures at Cabrillo National Monument are actually very hardy, and have adapted well to harsh conditions of pounding surf, intermittent exposure to sun and drying wind, and sharp changes in temperature and salinity?