Tidepool Permits for Groups
TIDEPOOL PERMITS
In order to protect this distinct and delicate ecosystem, Tidepool Permits are required for groups of ten or more to visit the tidepools at Cabrillo National Monument during low tides of 0.7' and lower. If your group numbers less than ten, no permit is required. For a Tidepool Permit Request Form, click here. Please note that it may take up to two weeks for your request to be considered.
Click here to view low tide dates by month.
Once you obtain a Tidepool Permit and after arriving at Cabrillo National Monument, take your permit to the Visitor Center to be validated by a Park Ranger prior to entering the intertidal area.
Group leaders are expected to provide proper supervision of their group for the protection of the ecosystem. For groups with children, a minimum ratio of one adult for every five children is required.
Park Rangers and Volunteers are stationed in the intertidal area during low tides to provide information, answer questions, and enforce regulations. There are no Ranger-led group tours in the tidepool area.
---
VEHICLE ACCESS - PLEASE NOTE
Please remember that access to the coastal area is only by vehicle via Cabrillo Road. Travel by any other means is dangerous and not permitted. There is no pedestrian access. Parking is limited, so we encourage carpools or bus transportation.
---
TO PROTECT TIDEPOOL CRITTERS - SOME RULES TO REMEMBER
Here are some fundamental rules for your visit to the tidepools. For more information, click here to go to the "Rules to Protect the Tidepools" page.
Forcibly removing any living organism from any surface is prohibited.
No scraping, probing, or prying instruments are allowed.
No containers such as buckets or cups may be used to hold organisms.
Nothing is to be disturbed or removed - it's the law. Federal regulations protect all objects throughout the park.


TO PROTECT YOU - SOME SAFETY TIPS

Watch your step on slippery rocks.
Wear shoes with soles that provide good traction.
Please walk - don't run or rock-hop.
Stay on trails and be aware that cliffs are extremely unstable and dangerous.
Be aware of "sneaker waves" that can appear suddenly.
Always keep an eye on the incoming tide - don't get stranded


FOR MORE INFORMATION
To find our more about obtaining a Tidepool Permit for your group, please contact:
| | | |
| --- | --- | --- |
| Education Department | phone: (619) 557-5450 ext. 2231 | email: cabr_education@nps.gov |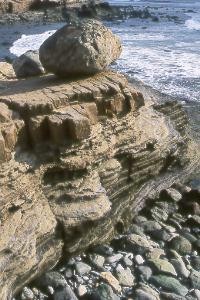 NPS Photo