Military History Building Closed until March 10, 2014

The Military History Building is undergoing a Seismic Retrofit (Earthquake Safety) and will be closed through 3/10/14. We apologize for this inconvenience.
Interior of Lighthouse Will Be Closed for Seismic Retrofit

The Lighthouse is undergoing a Seismic retrofit (earthquake safety). It is still open to the public, while the basement is worked on. The interior of the lighthouse will be closed once the basement is completed. Please call (619) 557-5450 for info.
Tidepool Permit Availability
The best times to visit the tidepools are during negative low tides, when the water is low and lots of rocks are exposed. Generally, you'll find good negative low tides during daylight hours in the winter and spring months. Tidepool permits are issued only on days when the tide is +0.7 or lower. To find the best date for you, click here to check out the charts.
NOTE: The charts are provided as a reference to show the dates when the tide is low enough to view intertidal organisms, but is not a guarantee that tidepool permits will be available. Check with the Education Department at (619) 557-5450, extension 2231, for permit availability.
Tidepool hours: 9:00 AM to 4:30 PM, seven days a week.


Did You Know?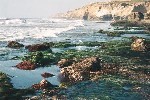 Did you know that the tidepools at Cabrillo National Monument are one of the last and best-preserved rocky Intertidal areas open to the public in Southern California?