Things To Know Before You Come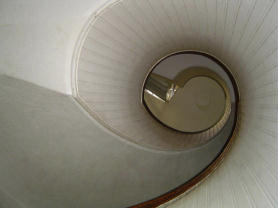 Staircase in Old Point Loma Lighthouse - NPS Photo
A visit to any National Park is always more enjoyable with a little pre-planning. Prior to your visit to Cabrillo National Monument, you may wish to find out about:
• Entrance fees. Click here for current park entrance fees.
• Hours that park facilities are open. Click here for more information.
• The low tide time if you wish to explore the tidepools. You can telephone the park at (619) 557-5450, extension "0", or search the Web for online tide charts for the Point Loma area.
• Possible Temporary Closure of Road to Tidepools - On weekends and Holidays and when there is a good low tide the road to the tidepools may be closed periodically when tidepool parking lots are full to capacity. The road to the tidepool area will be closed (usually 30-45 minutes), until sufficient capacity in the parking areas becomes available. This temporary closure of the road allows for traffic to flow freely and allows a more pleasant experience for the visitor by reducing the number of people and reducing the damage to the fragile ecosystem. Please plan your trips to allow for this delay. Thanks for your patience with our staff when dealing with this issue.
• The weather. Click here to go to Weather.com for an up-to-date forecast.
• The visibility. Many park visitors come for the outstanding view from Cabrillo National Monument. Telephone the park at (619) 557-5450, extension "0" for current visibility conditions.
• Special events. Click here to go to our Schedule of Events page.
• On the first Tuesday of each month at 10:00am there is a volunteer lead hike on the bayside trail.
•
Trash Free Park
Click
here
for information.
•
Cabrillo National Monument is a smoke-free park.
Smoking is not permitted in any buildings, or within any of the park's grounds, which include the tidepools, trails and parking lots.