Military History Building Closed until March 10, 2014

The Military History Building is undergoing a Seismic Retrofit (Earthquake Safety) and will be closed through 3/10/14. We apologize for this inconvenience.
Interior of Lighthouse Will Be Closed for Seismic Retrofit

The Lighthouse is undergoing a Seismic retrofit (earthquake safety). It is still open to the public, while the basement is worked on. The interior of the lighthouse will be closed once the basement is completed. Please call (619) 557-5450 for info.
Pets
To keep your animal companions healthy and safe, and to protect and preserve the native wildlife of Cabrillo National Monument, companion/comfort pets are not allowed in the park except in the tidepool area. And they must be on a leash of no more than six feet at all times. Please keep your pet from barking at, approaching or in any way causing wildlife to react. Always pick up after your pet and remember this is a trash-free park. Please do not leave pet waste in the park--pack it out. At no time are dogs allowed to walk along Cabrillo Road. The National Park Service has prohibited pets on trails for many years. Dogs in particular can chase wildlife, pollute water sources, and can become defensive and dangerous in unfamiliar surroundings. In addition, frightened wildlife can be aggressive and may harm you or your pet. These regulations protect both pets and wildlife. If you bring a companion/comfort pet to the upper part of the park, it must remain in your vehicle and be attended at all times.
Please note there is no shade in the parking lots
, and temperatures inside your vehicle can quickly rise to dangerous levels.
Service animals, as defined by Title II and III of the Americans with Disabilities Regulations (
http://www.ada.gov/regs2010/ADAregs2010.htm
), are allowed in the park.


Did You Know?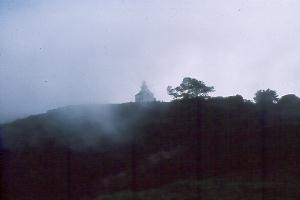 Did you know that the Old Point Loma Lighthouse at Cabrillo National Monument was only in service for 36 years? Due to its hilltop location, the light was frequently obscured by low clouds and fog, forcing construction of a new lighthouse closer to the water.