Military Retirements
MILITARY RETIREMENT CEREMONY GUIDELINES
To help you determine if Cabrillo National Monument is the best choice for your Department of Defense retirement ceremony, we offer the following guidelines:
• A Special Use Permit is required and is obtained in advance. Please contact a ranger listed below for more information.

• Ceremonies with more than 20 people are allowed in the main parking lot, in the north bay area.
• Retirement ceremonies with less than 20 people may be held in other areas of the park, with advance permission.
• Ceremonies should start before 9:00 AM and must conclude by 10:00 AM.
• The retiree, or his/her command, must provide and set up all chairs, tables, podium, PA system, etc. Park personnel cannot be used for this purpose. All equipment must be removed by 10:30 AM.
• Receptions with cake, cookies, coffee, or other refreshments are not permitted.
• The park entrance station opens at 9:00 AM. If the ceremony will begin after 9:00 AM, a fee waiver must be obtained. To obtain a fee waiver, fax your request on official letterhead to (619) 226-6311.
• All vehicles must be parked in the main parking area.
DOWNLOAD AN APPLICATION
For a downloadable application for retirement ceremony, click here.
FOR MORE INFORMATION
For further information, please contact:
Neil_Heller

@nps.gov

(619) 523-4577
Marty_Lane@nps.gov
(619) 523-4568

Ralph_Jones@nps.gov

(619) 523-4563



Did You Know?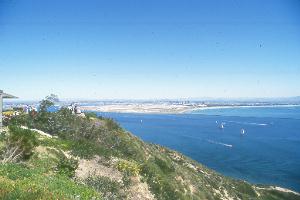 Did you know that Cabrillo National Monument boasts one of the best harbor views in the world? On clear winter days, you can experience a panorama that stretches from Mexico to the snow-capped mountains east of Los Angeles.