Military History Building Closed until March 10, 2014

The Military History Building is undergoing a Seismic Retrofit (Earthquake Safety) and will be closed through 3/10/14. We apologize for this inconvenience.
Interior of Lighthouse Will Be Closed for Seismic Retrofit

The Lighthouse is undergoing a Seismic retrofit (earthquake safety). It is still open to the public, while the basement is worked on. The interior of the lighthouse will be closed once the basement is completed. Please call (619) 557-5450 for info.
Military Reenlistments at the Park
REENLISTMENT CEREMONY GUIDELINES
To help you determine if Cabrillo National Monument is the best choice for your Department of Defense reenlistment ceremony, we offer the following guidelines:
• A Special Use Permit is required and is obtained in advance. Please contact Park Ranger Martin Lane to request a Permit Worksheet.
• Reenlistment ceremonies with less than 15 people are allowed in the Statue Plaza.
• Ceremonies with more than 15 people may be held in the Bluff Event Area.
• Ceremonies should start before 9:00 AM and must conclude by 10:00 AM.
• Receptions with cake, cookies, coffee, or other refreshments are not permitted.
• The park entrance station opens at 9:00 AM. If the ceremony will begin after 9:00 AM, a fee waiver must be obtained. To obtain a fee waiver, fax your request on official letter head to (619) 226-6311.
• All vehicles must be parked in the main parking area.
FOR MORE INFORMATION
To obtain a Permit Worksheet, or to learn more about holding a reenlistment ceremony at Cabrillo National Monument, please contact:
| | |
| --- | --- |
| Marty_Lane@nps.gov | (619) 523-4568 |
| Neil_Heller@nps.gov | (619) 523-4577 |
| Ralph_Jones@nps.gov | (619) 523-4563 |


Did You Know?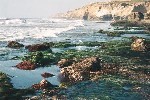 Did you know that the tidepools at Cabrillo National Monument are one of the last and best-preserved rocky Intertidal areas open to the public in Southern California?