Lighthouse Will Be Closed for Seismic Retrofit April 7 through May 16

The Lighthouse is undergoing a Seismic retrofit and will be closed from April 7 - May 16. Visitors can still access the Assistant Keepers Quarters exhibit from the south door, Lighthouse Comfort Station, and Kelp Forest Overlook. Call 619-557-5450.
Visitor Center Scheduled to be Closed May 19 through June 16

The Visitor Center will be undergoing a Seismic Retrofit and will be closed. Visitors will still be able to access the Auditorium, Ballast View and the East Patio. These dates are subject to change. Please call 619 557-5450 for updated information
Lodging
As the park is a day-use area, there are no accommodations located within Cabrillo National Monument. However, your visit here may include an overnight stay at one of the many lodging establishments located within the city of San Diego. To help you find a hotel, bed and breakfast, campground, or vacation rental, click here to go to the San Diego Convention and Visitors Bureau website for accommodations. Please note that this link is provided only as an aid to your travel planning; it is not intended as an endorsement of any of the establishments listed.


Did You Know?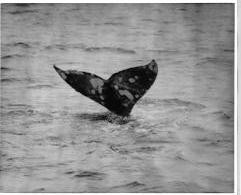 Did you know that Pacific Gray Whales can dive to more than 200 feet and can stay underwater for as long as 20 minutes?