Cabrillo National Monument Theater Closed on Selected Dates

Due to National Park Service alternate uses, the Cabrillo National Monument theater will be closed to the public on the following dates: October 28 all day, October 29 9am-12pm, November 6, 2014 12pm-5pm. We are sorry for the inconvenience.
Lodging
As the park is a day-use area, there are no accommodations located within Cabrillo National Monument. However, your visit here may include an overnight stay at one of the many lodging establishments located within the city of San Diego. To help you find a hotel, bed and breakfast, campground, or vacation rental, click here to go to the San Diego Convention and Visitors Bureau website for accommodations. Please note that this link is provided only as an aid to your travel planning; it is not intended as an endorsement of any of the establishments listed.


Did You Know?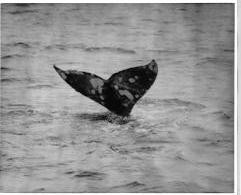 Did you know that Pacific Gray Whales can dive to more than 200 feet and can stay underwater for as long as 20 minutes?