Cabrillo National Monument Theater Closed on Selected Dates

Due to National Park Service alternate uses, the Cabrillo National Monument theater will be closed to the public on the following dates: October 28 all day, October 29 9am-12pm, November 6, 2014 12pm-5pm. We are sorry for the inconvenience.
For Kids
Be a Junior Ranger!
Cabrillo National Monument is a great place for kids of all ages – there's plenty to learn!
The Junior Ranger Program is a fun way to find out more about the park, and is a chance to earn a Junior Ranger badge. When you arrive, go to the Visitor Center and ask for a FREE "Just For Kids" newspaper. Visit the different areas of the park to learn more about 16th century exploration, ships and aircraft, whales, natural and military history. When you are done, bring the newspaper back to the Visitor Center and discuss your answers with a Park Ranger or Volunteer – and be awarded a Junior Ranger badge!
Please note: Because of the activities, our Junior Ranger program must be completed while you are actually in the park - it cannot be completed at home and a Junior Ranger badge mailed. Plus, part of the fun is receiving the Junior Ranger Oath and Badge from a real Park Ranger! We hope you will come to Cabrillo National Monument and embark on your own Junior Ranger voyage of discovery!
Also, pick up your free copy of the new Climate Change Junior Ranger at the Visitor Center or download your very own here. Booklet must be printed double-sided.


Did You Know?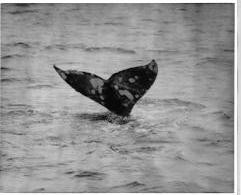 Did you know that Pacific Gray Whales were nearly hunted to extinction? They now number about 25,000, thanks in part to full protection by the International Whaling Commission.