Military History Building Closed until March 10, 2014

The Military History Building is undergoing a Seismic Retrofit (Earthquake Safety) and will be closed through 3/10/14. We apologize for this inconvenience.
Interior of Lighthouse Will Be Closed for Seismic Retrofit

The Lighthouse is undergoing a Seismic retrofit (earthquake safety). It is still open to the public, while the basement is worked on. The interior of the lighthouse will be closed once the basement is completed. Please call (619) 557-5450 for info.
Guided Tours
You can embark on your own voyage of discovery when you visit Cabrillo National Monument. The park is primarily self-guided, so you may explore at your own pace and discover the natural and historical wonders that are found here. We also offer Ranger-guided walks and talks on the lighthouse, 16th century navigation and armaments, and natural history, as staffing allows. When you arrive, be sure to check the schedules located outside the auditorium or in the Visitor Center to see what guided programs may be offered.
There is a volunteer lead hike on the first Tuesday of each month at 10:00am on the Bayside Trail. Learn about the rich and diverse ecosystems of the cliffs of CNM. Get a peak at the historic military significance of Point Loma. See the results of geological movement. Do all this while getting the best view of the skyline San Diego and the harbor.


Did You Know?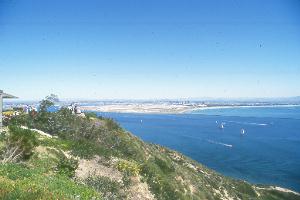 Did you know that Cabrillo National Monument boasts one of the best harbor views in the world? On clear winter days, you can experience a panorama that stretches from Mexico to the snow-capped mountains east of Los Angeles.