Cabrillo National Monument Theater Closed on Selected Dates

Due to National Park Service alternate uses, the Cabrillo National Monument theater will be closed to the public on the following dates: October 28 all day, October 29 9am-12pm, November 6, 2014 12pm-5pm. We are sorry for the inconvenience.
Getting Around
It's easy to get around Cabrillo National Monument. State Highway 209, also known as Cabrillo Memorial Drive, is the only road leading into the park, and it is signed and well-marked. Wide, paved paths and sidewalks lead visitors to the Visitor Center Complex, Lighthouse area, Whale Overlook, and Military History Exhibit. If a member of your party is unable to walk to the Lighthouse area, stop in at the Visitor Center for a pass that will enable you to drive there.


Did You Know?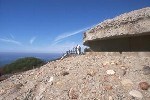 Did you know that in World War II, the Japanese Navy was ordered to avoid San Diego because of the coastal defense systems in place, some of which can still be seen today within Cabrillo National Monument?