Schedule Of Events
Search for Events
Events Upcoming for May
Showing 1 results
Saturday, May 25, 2013

Join WW2 Living History re-enactors in the military history exhibit and tour a coast artillery bunker. More

Time:

10:00 AM to 4:00 PM

Location:

Cabrillo National Monument

Fees:

Entrance Fee Applies
Year at a Glance - 2013 Events

Volunteer Recruitment

5/7,9/7 10am-12PM
Do you see your dream job? Do you have special skills or want to learn some? Join us on one of the dates offered for a 2 hour orientation to the Volunteer-In-Parks (VIP) program. RSVP required at cabr_volunteers@nps.gov or (619) 523-4565
Tidepool Education and Restoration Program
9/14, 9/21, 10/2
Do you want to be outside in a beautiful, wild coastal environment? Do you enjoy working with families, children and the general public? If you answered yes, then help protect the monument's popular tidepool area as a volunteer in the Tidepool Protection, Education and Restoration Program (TPERP). Get training on how to help the National Park Service protect this intricate, fragile area by educating visitors about this fascinating environment. RSVP required at bonnie_phillips@nps.gov or (619) 523-4586
Millitary History Tours
4/27, 8/24, 9/28, 10/26, 11/23, 12/28 10AM-4PM
Join us every forth Saturday of the month as WWII re-enactors bring the coastal defenses of Point Loma to life. These are your only chances to tour the bunkers on Point Loma. Don't miss this amazing opportunity to learn more about the soldiers stationed at Fort Rosecrans during WWII and see the weapons and instruments that protected our coast during the tumultuous war years.
Dusty Socks Club Hike
3/31, 4/28, 5/26
The Dusty Socks Club is an educational and fun program geared for children ages 6-12 motivating them to get outdoors and enjoy nature. The hikes are led on various trails, beaches, historic areas, etc. around San Diego and they meet the last Sunday of every month. For more information contact healthyparks@hotmail.com or (619) 523-4565.
Artist-in-Residence
4/16 - 5/ 11 & 12/ 1-1/13
The Artist-in-Residence (AIR) program calls on local artists to spread the mission of the National Park Service and continues the tradition of inspiring new stewards to national parks through art. Artists conduct several outreach programs to a variety of audiences around the community and showcase their art at the park visitor center.
National Parks Week
4/20-4/27
To celebrate all of our National Park sites, all of your favorite NPS sites, including Cabrillo National Monument will waive entrance fees from April 20-27, 2012. Come out and enjoy the beautiful scenery, for free!
Junior Ranger Day
4/27 10AM-4:30PM
This annual Junior Ranger Day will include activities such as a special, self-guided scavenger hunt, which children may do with their families while they explore the park, and Junior Rangers of any age who complete this program will receive a Junior Ranger Day badge and certificate. Rangers will also host a '100 Years, 100 Words' Essay Contest Workshop to be submitted before the deadline 8/31.
Migratory Bird Festival
5/11 10AM-4PM

Come to the park to the migration of nearly 350 species of migratory birds between nesting habitats in North America and non-breeding grounds in Latin America, Mexico, and the Caribbean. A speaker from the United States Geological Survey will give a talk on migratory birds and their conservation.
Parks and Open Spaces Day
6/8 10AM-4PM
Celebrate all of the beautiful parks and open spaces that make San Diego such a special city to call home. Special ranger-led hikes and programs will be occurring throughout the day, so bring your hiking shoes and plenty of water!
Fee Free Day

8/25 9AM-5PM
National Park Service Birthday - All sites operated by the National Park Service including Cabrillo National Monument, are free!
Fee Free Day

9/28 9AM-5PM
National Public Lands Day - All sites operated by the National Park Service, Fish and Wildlife Service, Bureau of Land Management, and the US Forest Service and Cabrillo National Monument, are free!


Cabrillo Commemorative Ceremony
9/28 4PM
The 2013 Cabrillo Festival Commemorative Ceremony and Wreath Laying in recognition of Juan Rodriguez Cabrillo's Arrival in San Diego Bay on September 28th 1542. The keynote address will be by the tribal chairman of the Viejas Band of Kumeyaay Indians Anthony Pico, Ph.D. The Navy Band Southwest Kumeyaay Wildcat Singers band concert will play. There will also be a Kumeyaay Blessing by Jane Dumas, Elder of the Jamul Village Benediction by Brother Carlos Medina Jr. Province of Saint Augustine The West Coast Augustinians.
Cabrillo Festival

9/29 11AM-4PM

Join thousands of San Diegans who will celebrate the voyage of Juan Rodriguez Cabrillo. There will be music, dancing, children's activities, Native American, Mexico, Portugal, and Spanish food. There will also be a re-enactment of Cabrillo's landing at Ballast Point.
Centennial Celebration Festival & Commemorative Ceremony
10/12-10/14 10AM-4PM Commemorative Ceremony 6PM
Join us for open tower tours every hour on the hour from 10am - 3pm (sign up first come first serve @ Cabrillocentennial.org), cake contest, lighthouse obstacle course, reading ranger in lighthouse parlor, possible carriage rides around the lighthouse.
Fee Free Day

11/9-11/11 9AM-5PM
Veterans Day Weekend - All sites operated by the National Park Service, Fish and Wildlife Service, Bureau of Land Management, and the US Forest Service and Cabrillo National Monument, are free!
Open Tower Day

11/15 10AM-3:30PM
Celebrate the anniversary of the lighting of the historic Old Point Loma Lighthouse at Cabrillo National Monument. This is one of just two days out of the year that the lantern and balcony of the lighthouse is open to the public. Rangers and park volunteers will be on hand in 1880's attire to entertain and educate.
Annual Fort Rosecrans Goes to War & Liberty Dance
12/7-12/8 10AM-4:30PM Swing Dance 12/7
Join WW2 Living History re-enactors in the military history exhibit and tour a coast artillery bunker as they reenact the attack on Pearl Harbor and the United State's entry into the Second World War. On December 7 and 8, from 10AM-4:30PM, the National Park Service at Cabrillo National Monument will host a World War II Living History event to commemorate this pivotal moment and its impact on San Diego.
History will come alive as Cabrillo National Monument is transformed back into 1940s Fort Rosecrans. Historical re-enactors will represent the men and women of the US Army and members of the 19th Coast Artillery. World War II vehicles, tents, and various displays will be set up around the park. Historic structures, including the army radio station and one of the observation bunkers, will be open for viewing. Don't just learn history, live it. Join Cabrillo National Monument for this unique opportunity to understand and commemorate San Diego's important role during the early days of World War II.
The Cabrillo National Monument Foundation will also host the park's first 1940's era Liberty Swing Dance. For more information on the Liberty Dance and ticket sales, visit the Cabrillo Bookstore; go to www.cnmf.org or call 619-222-4747.


Did You Know?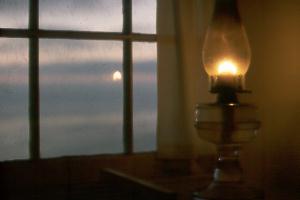 Did you know that, back in the mid- to late-1800s, children of lightkeepers at the Old Point Loma Lighthouse at Cabrillo National Monument had to row a boat from Point Loma to Old Town San Diego to get to school?