Cabrillo National Monument Theater Closed on Selected Dates

Due to National Park Service alternate uses, the Cabrillo National Monument theater will be closed to the public on the following dates: September 20, September 27, October 28 - 29, November 6, 2014. We are sorry for the inconvenience.
Connect With Cabrillo National Monument
Stay up to date with events at Cabrillo National Monument by following us on social media such as Facebook and Twitter.
Cabrillo National Monument Foundation
http://www.cnmf.org
Become a member of the Foundation and receive benefits such as an annual pass to Cabrillo as well as discounts in the bookstore, Moonwalks and other benefits.
Cabrillo National Monument Conservancy
http://friendsofcabrillo.com
Join the Conservancy and help support special projects at Cabrillo. Participate in the Fourth of July Fireworks Celebration by watching from a unique viewing area on the grounds of the Park.
Download Our Free Cabrillo Wildflowers App

Now available on iTunes is the Cabrillo NM Wildflower app for iPhones & iPads. Just search "Cabrillo Wildflowers" or use this link.
The app is loaded with lots of great plant photos (with more to come in future updates) and information. While particularly relevant to Cabrillo and Pt Loma, its a useful resource for anyone working in coastal southern California lands. Its very user friendly and appropriate for both the advanced botanist and causal observer.


Did You Know?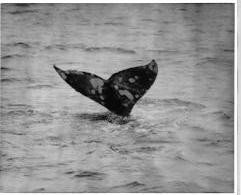 Did you know that Pacific Gray Whales make one of the longest migrations of all mammals? They travel approximately 12,000 miles from the Arctic to Baja California and back again, and can be seen on their southward migration from Cabrillo National Monument.