Carpooling / Vanpooling
Cabrillo National Monument loves carpoolers! When you carpool to the monument, you:
Reduce auto emissions and air pollution
Reduce traffic and congestion on roadways
Reduce wear and tear on streets and roads
Reduce stress
Reduce entrance fees – it's only $5.00 per vehicle to come into Cabrillo National Monument, so load up that car!


Did You Know?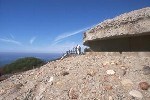 Did you know that in World War II, the Japanese Navy was ordered to avoid San Diego because of the coastal defense systems in place, some of which can still be seen today within Cabrillo National Monument?