Visitor Center Scheduled to be Closed Until Mid to Late July

The Visitor Center is undergoing a Seismic Retrofit. Visitors will still be able to access the Auditorium, Ballast View and the East Patio. These dates are subject to change. Please call 619 557-5450 for updated information
Photos & Multimedia
"What's the view like right now?"
Click here to check out our live webcams with current views of the rocky intertidal and San Diego harbor.
Download
Google Earth
to explore Cabrillo National Monument from your computer!
Explore Cabrillo National Monument using Google Earth. Join us on a narrated tour of the monument through this
interactive map
. The tour is a guide to the park that includes a voiceover and pop-up balloons along the way. View the fly-over video or click through the interactive map to hear the unique stories of many key features of the park.The tour is available through a downloadable KMZ file that opens in Google Earth or with a web browser plug-in (software) available at http://earth.google.com/plugin/tours.
Click on the video to view a short preview of the tour.

Duration:

2 minutes, 5 seconds


Did You Know?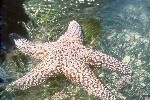 Did you know that delicate-looking tidepool creatures at Cabrillo National Monument are actually very hardy, and have adapted well to harsh conditions of pounding surf, intermittent exposure to sun and drying wind, and sharp changes in temperature and salinity?