Military History Building Closed until March 10, 2014

The Military History Building is undergoing a Seismic Retrofit (Earthquake Safety) and will be closed through 3/10/14. We apologize for this inconvenience.
Interior of Lighthouse Will Be Closed for Seismic Retrofit

The Lighthouse is undergoing a Seismic retrofit (earthquake safety). It is still open to the public, while the basement is worked on. The interior of the lighthouse will be closed once the basement is completed. Please call (619) 557-5450 for info.
Photos & Multimedia
"What's the view like right now?"
Click here to check out our live webcams with current views of the rocky intertidal and San Diego harbor.
Download
Google Earth
to explore Cabrillo National Monument from your computer!
Explore Cabrillo National Monument using Google Earth. Join us on a narrated tour of the monument through this
interactive map
. The tour is a guide to the park that includes a voiceover and pop-up balloons along the way. View the fly-over video or click through the interactive map to hear the unique stories of many key features of the park.The tour is available through a downloadable KMZ file that opens in Google Earth or with a web browser plug-in (software) available at http://earth.google.com/plugin/tours.
Click on the video to view a short preview of the tour.

Duration:

2 minutes, 5 seconds


Did You Know?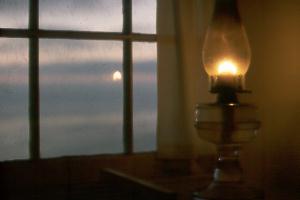 Did you know that, back in the mid- to late-1800s, children of lightkeepers at the Old Point Loma Lighthouse at Cabrillo National Monument had to row a boat from Point Loma to Old Town San Diego to get to school?