Lighthouse Will Be Closed for Seismic Retrofit April 7 through May 16

The Lighthouse is undergoing a Seismic retrofit and will be closed from April 7 - May 16. Visitors can still access the Assistant Keepers Quarters exhibit from the south door, Lighthouse Comfort Station, and Kelp Forest Overlook. Call 619-557-5450.
Visitor Center Scheduled to be Closed May 19 through June 16

The Visitor Center will be undergoing a Seismic Retrofit and will be closed. Visitors will still be able to access the Auditorium, Ballast View and the East Patio. These dates are subject to change. Please call 619 557-5450 for updated information
National Parks Week

Come Join us during National Parks Week April 19-27. You can see the schedule here. More »
Photos and Images
Cabrillo National Monument is internationally known as a picturesque location, with many scenic elements: the Old Point Loma Lighthouse, tidepools, Bayside Trail, and the incredible view of San Diego are but a few. You know which shots will help convey your message and best fit your written piece, and we encourage you or your photographer to come visit the park and collect the images you need. If a personal visit is not practical, we will be glad to provide you with digital or electronic stock photos. Simply contact the Public Affairs Officer with your request.


Did You Know?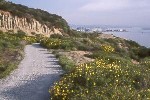 Did you know that the coastal sage scrub habitat found at Cabrillo National Monument is one of the most endangered ecosystems in the world? Only 10-15% of the original habitat now exists. Once the dominant ecosystem, the coastal sage scrub community now only exists in small remnant pockets.