Lighthouse Will Be Closed for Seismic Retrofit April 7 through May 16

The Lighthouse is undergoing a Seismic retrofit and will be closed from April 7 - May 16. Visitors can still access the Assistant Keepers Quarters exhibit from the south door, Lighthouse Comfort Station, and Kelp Forest Overlook. Call 619-557-5450.
Visitor Center Scheduled to be Closed May 19 through June 16

The Visitor Center will be undergoing a Seismic Retrofit and will be closed. Visitors will still be able to access the Auditorium, Ballast View and the East Patio. These dates are subject to change. Please call 619 557-5450 for updated information
National Parks Week

Come Join us during National Parks Week April 19-27. You can see the schedule here. More »
News Releases

Memorial Day Hours
Cabrillo National Monument Hours of Operation will be from 12pm to 8pm on Memorial DayCabrillo National Monument's park hours will be from 12pm until 8pm on Monday May 26, 2014. The park will be closed before noon on this day, due to the Memorial Day event and Services at Fort Rosecrans National Cemetery. Traffic on Catalina Blvd at Navy Base Gate Post 2 and Cabrillo Memorial Drive south of the cemetery will be closed in the morning to all vehicles, bicycles and pedestrians in order to reduce congestion and increase safety. Visitors are encouraged to avoid the area unless they are attending the Memorial event at Fort Rosecrans National Cemetery. As a result of the morning closure, Cabrillo National Monument will be open in the evening, so visitors can view the sunset from the park. The park and its grounds will close at 8pm.Cabrillo National Monument's normal hours of operation are 9am to 5pm, seven days per week, and these hours will resume on Tuesday May 27th.
Seismic Retrofit Underway at Cabrillo National Monument
Periodic closures of park buildings will take place through June 2014
San Diego, CA – A seismic retrofit of buildings at Cabrillo National Monument is underway and expected to last through June 2014. The construction projects are being performed in phases to provide the most access possible for park visitors. Here is the following closure schedule:
-Lighthouse closed from 3/24 through 5/16 (The Assistant Keeper's Quarters and grounds around the lighthouse will remain open)-Visitor Center View Building closed from 5/19 through 6/16 – this closure will include part of the breezeway. (The Auditorium, Ballast View and the East Patio of the View Building will remain open)
Many of the visitor center exhibits and the Cabrillo National Monument Foundation Bookstore will temporarily move to the Auditorium.The entire project is scheduled to be completed 6/18/2014, however delays could occur. Visitors are encouraged to check the park's website www.nps.gov/cabr, or call ahead to 619-557-5450 prior to their visit to check on the project status.

Did You Know?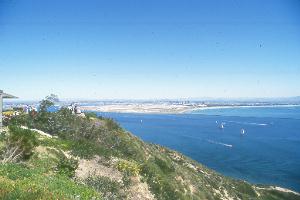 Did you know that Cabrillo National Monument boasts one of the best harbor views in the world? On clear winter days, you can experience a panorama that stretches from Mexico to the snow-capped mountains east of Los Angeles.