Military History Building Closed until March 10, 2014

The Military History Building is undergoing a Seismic Retrofit (Earthquake Safety) and will be closed through 3/10/14. We apologize for this inconvenience.
Interior of Lighthouse Will Be Closed for Seismic Retrofit

The Lighthouse is undergoing a Seismic retrofit (earthquake safety). It is still open to the public, while the basement is worked on. The interior of the lighthouse will be closed once the basement is completed. Please call (619) 557-5450 for info.
News Releases

Check this page periodically for current News Releases.
Education Program Volunteers Needed


Artist in Residence Exhibition


Did You Know?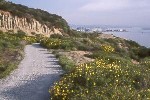 Did you know that the coastal sage scrub habitat found at Cabrillo National Monument is one of the most endangered ecosystems in the world? Only 10-15% of the original habitat now exists. Once the dominant ecosystem, the coastal sage scrub community now only exists in small remnant pockets.