Lighthouse Will Be Closed for Seismic Retrofit April 7 through May 16

The Lighthouse is undergoing a Seismic retrofit and will be closed from April 7 - May 16. Visitors can still access the Assistant Keepers Quarters exhibit from the south door, Lighthouse Comfort Station, and Kelp Forest Overlook. Call 619-557-5450.
Visitor Center Scheduled to be Closed May 19 through June 16

The Visitor Center will be undergoing a Seismic Retrofit and will be closed. Visitors will still be able to access the Auditorium, Ballast View and the East Patio. These dates are subject to change. Please call 619 557-5450 for updated information
National Parks Week

Come Join us during National Parks Week April 19-27. You can see the schedule here. More »
Tidepool Volunteers
A Day in the Life: What It's Like To Be A TPERP
By Beth Gramoy, TPERP VIP
One of the conclusions of the Tidepool study was that a "presence" was needed in the tidepools. And what a presence we got! Since the program first started in the fall of 1996, we have had many VIPs become specialists in the tidepools. Currently we have over 30 VIPS on board every season to cover all the low tide shifts as well as some of the higher tide times that coincide with a lot of visitors, well, visiting. And now we even have our own name, the TPERPS, which means Tidepool Protection, Education and Restoration Program VIPs.
What's it like being a TPERP? GREAT! Sometimes (oftentimes) it means getting your feet wet, or your clothes dirty, or breaking a nail or three. It also means a sense of fulfillment, an opportunity to meet many wonderful tidepool inhabitants as well as people from all over the world. It means fresh air and beauty and just plain fun. It's a good way to keep learning, to keep involved, to stay healthy, and it means making a difference as shown by comparing how it is now to when the original study was done. Most of our visitors have never seen the animals we have in the tidepools, especially in their natural habitats. I love to point them out and tell stories about them – the animals, not the visitors (though there are some stories I could tell about the visitors, too…there was this one lady from the Midwest…oh, never mind). To show someone a sea hare, and let them pet it, and then watch them leave talking about that "huge, ugly black snail" means that sea hare made another friend and protector. It's so fun to learn a story about each of the tidepool critters and then share it with a most interested and appreciative audience. The kids are the best, as they so quickly become little tidepool ambassadors. The CNM staff does a bang-up job at providing ongoing training on all the diverse topics visitors ask about. Some of the most commonly asked about topics deal with the history of the park, why Zone 3 is closed, flora and fauna, tides, geology, geography, and even directions around the city and a good restaurant for lunch. But even on a cold, gray day when few visitors brave the weather, it is wonderful to just be there.
What do TPERPS do? We are part of a great CNM team whose mission is to preserve and protect the Rocky Intertidal for future generations while educating the masses, one visitor at a time. Our main duty is to enforce Zone 3 closure, which is the area of the park's tidepools that is closed to public access so that we might conduct research on how visitors and changes in the environment are impacting the tidepool resources. Our second major duty is to protect the tidepools while ensuring visitors have a safe, enjoyable and educational visit. And how do we do all that? The formal training to be a TPERP is quite comprehensive as are the opportunities for self-initiated learning. The training ensures TPERPs are a little biologist, a little geologist and some oceanographer, with a sprinkling of geography and history and a whole lot of interpretation thrown in. And sometimes we are even a bit of a cop. We tell stories about all the animals one might see in and around the tidepools, we talk about tides and how they impact where the animals live, we point out 70 million year old rocks, we show visitors Dead Man's Fingers and other marine algae, we spot Gray Whales during the winter migration season, and we encourage and enforce good tidepool etiquette. We do whatever we need to do to protect our precious tidepools while allowing the visitors the best experience possible. And at the end of our shift we go home tired and happy knowing the visitors are satisfied and the resources will be there tomorrow.
Contact
Bonnie Phillips
for information on how to volunteer to help protect this unique and vital resource.
Did You Know?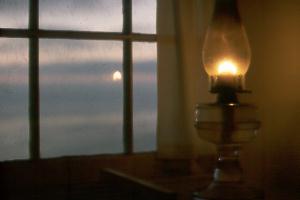 Did you know that, back in the mid- to late-1800s, children of lightkeepers at the Old Point Loma Lighthouse at Cabrillo National Monument had to row a boat from Point Loma to Old Town San Diego to get to school?