Military History Building Closed until March 10, 2014

The Military History Building is undergoing a Seismic Retrofit (Earthquake Safety) and will be closed through 3/10/14. We apologize for this inconvenience.
Interior of Lighthouse Will Be Closed for Seismic Retrofit

The Lighthouse is undergoing a Seismic retrofit (earthquake safety). It is still open to the public, while the basement is worked on. The interior of the lighthouse will be closed once the basement is completed. Please call (619) 557-5450 for info.
Tidepooling Tips
Because of their protected status, some of the best tidepools in California can be found right here at Cabrillo National Monument. Follow these tips for a more enjoyable visit:
For optimum viewing, a negative low tide is a must.The very best time for tidepooling is during the winter months, when those good negative low tides occur during daylight hours when the park is open.In the summer months, the negative low tides generally occur in the middle of the night. Even though there are daily low tides during the summer, many times they still are too high to really see anything - there's just too much water in the tidepools to adequately access them. Bonus: if you visit during the winter, we always try to have a Park Ranger or Volunteers in the tidepools to answer questions and to help you spot tidepool critters (and we're always looking for Volunteers to help out!).
Please note that a vehicle is required to get to the lower area of the park where the tidepools are located; once parked, it's a short walk and scramble down into the tidepools.
Shoes with good gripping soles are best, as rocky areas become slippery with water and algae.
Please keep small children close - a child's enthusiasm and excitement over being in this natural wonderland can quickly translate into a slip or tumble.
Feel free to give us a call at (619) 557-5450, extension 0 - we'll be glad to let you know when the best low tide is so you can plan a visit to this unique and special area!


Did You Know?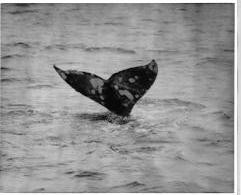 Did you know that Pacific Gray Whales were nearly hunted to extinction? They now number about 25,000, thanks in part to full protection by the International Whaling Commission.