Cabrillo National Monument Theater Closed on Selected Dates

Due to National Park Service alternate uses, the Cabrillo National Monument theater will be closed to the public on the following dates: October 28 all day, October 29 9am-12pm, November 6, 2014 12pm-5pm. We are sorry for the inconvenience.
Tidepool Animals
Descending the slopes of Cabrillo National Monument, sandstone cliffs drop off into intertidal habitat that characterizes the western shore of the monument. The intertidal zone is where the land and sea merge. Here marine plants and animals are submerged during high tide and exposed to the sun and wind on the rocky reef during low tide. This ocean environment supports a tremendous diversity of life.
The splash zone, farthest inshore, and the upper intertidal zone are mostly found on the sandstone cliff faces in the tidepools here. Calling these zones home are many small invertebrates, such as periwinkle snails, lined shore crabs, acorn barnacles, troglodyte chitons, and various limpets.
The middle intertidal zone is fully submerged during high tide and fully exposed during low tide. Tidepool critters found here have adapted to these drastic twice-daily changes. Residents of the middle intertidal zone include California mussels, aggregating anemones, limpets, chitons, California sea hares, snails, crabs, fishes, lobsters, and octopus.
During low tide, visitors can tidepool residents interacting with each other and utilizing the plants for food and shelter. Past the intertidal zone is the subtidal zone, where the tides no longer expose a rocky reef. This zone is where larger fish, larger sea stars, and many types of sea urchins live. This is also where some marine plants grow much larger.


Did You Know?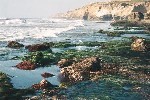 Did you know that the tidepools at Cabrillo National Monument are one of the last and best-preserved rocky Intertidal areas open to the public in Southern California?