Terrestrial Invertebrates
Cabrillo National Monument and the Point Loma peninsula are home to a variety of terrestrial invertebrates, including insects, spiders, millipedes, centipedes, and a snail. A genus of trap door spider is found here and nowhere else. Black beetles (stink bugs) are common here, and two species of glow worm (beetle larvae) have been found on Point Loma. Until 1995, silk-spinning crickets were found only on Catalina Island and the Tijuana hills; these wingless crickets have now been documented on Point Loma. The large Jerusalem cricket (potato bug) is found here under rocks and wood, and make a tasty meal for foxes and coyotes. The shoulderband snail emerges at night from under rocks during the rainy season.


Learn more about San Diego's invertebrates

Visit the San Diego Natural History Museum's website for more information Read More
Did You Know?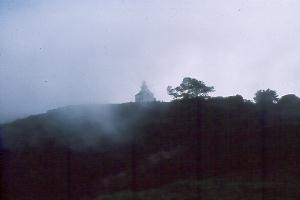 Did you know that the Old Point Loma Lighthouse at Cabrillo National Monument was only in service for 36 years? Due to its hilltop location, the light was frequently obscured by low clouds and fog, forcing construction of a new lighthouse closer to the water.