Military History Building Closed until March 10, 2014

The Military History Building is undergoing a Seismic Retrofit (Earthquake Safety) and will be closed through 3/10/14. We apologize for this inconvenience.
Interior of Lighthouse Will Be Closed for Seismic Retrofit

The Lighthouse is undergoing a Seismic retrofit (earthquake safety). It is still open to the public, while the basement is worked on. The interior of the lighthouse will be closed once the basement is completed. Please call (619) 557-5450 for info.
Terrestrial Invertebrates
Cabrillo National Monument and the Point Loma peninsula are home to a variety of terrestrial invertebrates, including insects, spiders, millipedes, centipedes, and a snail. A genus of trap door spider is found here and nowhere else. Black beetles (stink bugs) are common here, and two species of glow worm (beetle larvae) have been found on Point Loma. Until 1995, silk-spinning crickets were found only on Catalina Island and the Tijuana hills; these wingless crickets have now been documented on Point Loma. The large Jerusalem cricket (potato bug) is found here under rocks and wood, and make a tasty meal for foxes and coyotes. The shoulderband snail emerges at night from under rocks during the rainy season.


Learn more about San Diego's invertebrates

Visit the San Diego Natural History Museum's website for more information Read More
Did You Know?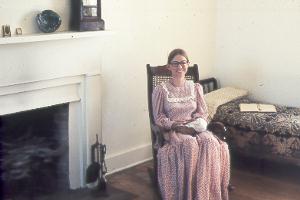 Did you know that assistant lighthouse keeper Maria Israel of the Old Point Loma Lighthouse made and sold shell picture frames? Today, you can see one of the frames made by Maria still hanging in the lighthouse at Cabrillo National Monument.