Military History Building Closed until March 10, 2014

The Military History Building is undergoing a Seismic Retrofit (Earthquake Safety) and will be closed through 3/10/14. We apologize for this inconvenience.
Interior of Lighthouse Will Be Closed for Seismic Retrofit

The Lighthouse is undergoing a Seismic retrofit (earthquake safety). It is still open to the public, while the basement is worked on. The interior of the lighthouse will be closed once the basement is completed. Please call (619) 557-5450 for info.
Status and Trends - A Fifteen Year Report
In order to gain information to conserve the tidepool communities unimpaired for future generations, the National Park Service has been engaged in a monitoring effort through the Cabrillo Rocky Intertidal Monitoring Program (CRIMP) since 1990. Click
here
to download the 15 year report.
Did You Know?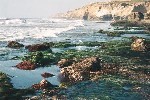 Did you know that the tidepools at Cabrillo National Monument are one of the last and best-preserved rocky Intertidal areas open to the public in Southern California?