Lighthouse Will Be Closed for Seismic Retrofit April 7 through May 16

The Lighthouse is undergoing a Seismic retrofit and will be closed from April 7 - May 16. Visitors can still access the Assistant Keepers Quarters exhibit from the south door, Lighthouse Comfort Station, and Kelp Forest Overlook. Call 619-557-5450.
Visitor Center Scheduled to be Closed May 19 through June 16

The Visitor Center will be undergoing a Seismic Retrofit and will be closed. Visitors will still be able to access the Auditorium, Ballast View and the East Patio. These dates are subject to change. Please call 619 557-5450 for updated information
Mussels
Former park Marine Biologist Bonnie Becker submitted her thesis on mussel populations in the tidepools here at Cabrillo National Monument, and graduated in 2005 with a Ph.D. in Oceanography from University of California, San Diego. Dr. Becker's report, "The Regional Population Variability and Larval Connectivity of Mytilid Mussels: Conserving the Populations of Cabrillo National Monument" can be downloaded
here
.
Did You Know?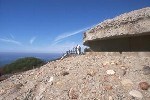 Did you know that in World War II, the Japanese Navy was ordered to avoid San Diego because of the coastal defense systems in place, some of which can still be seen today within Cabrillo National Monument?