Human Effects
Visitor Use Impact
Click
here
to download the 1978 project report which documented the biological resources of several intertidal habitats at Cabrillo National Monument, examining differences in biota where visitor use was heavy and where it was light.
Oil Spill Response Plan
Click here to download Cabrillo National Monument's oil spill response plan, developed in partnership with the California Department of Fish and Game's Office of Spill Prevention and Response.
Did You Know?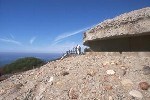 Did you know that in World War II, the Japanese Navy was ordered to avoid San Diego because of the coastal defense systems in place, some of which can still be seen today within Cabrillo National Monument?