Military History Building Closed until March 10, 2014

The Military History Building is undergoing a Seismic Retrofit (Earthquake Safety) and will be closed through 3/10/14. We apologize for this inconvenience.
Interior of Lighthouse Will Be Closed for Seismic Retrofit

The Lighthouse is undergoing a Seismic retrofit (earthquake safety). It is still open to the public, while the basement is worked on. The interior of the lighthouse will be closed once the basement is completed. Please call (619) 557-5450 for info.
Common Native Plants of Cabrillo NM
Did You Know?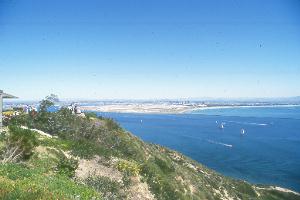 Did you know that Cabrillo National Monument boasts one of the best harbor views in the world? On clear winter days, you can experience a panorama that stretches from Mexico to the snow-capped mountains east of Los Angeles.