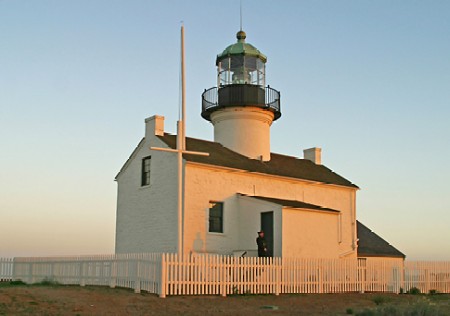 Peter Fay Photo
Bringing History Alive at the Lighthouse
Contributed by Cabrillo National Monument Volunteer William Doyle
I had been portraying San Diego's Honorary First Citizen and Merchant Prince George Marston (look-alike) character for various historic groups for a year and a half when I read a notice in KPBS On Air Magazine last December about the upcoming celebration of the Old Point Loma Lighthouse re-opening. (The lighthouse and surrounding grounds had just been restored to look as they did in 1887.) I thought this might be a good opportunity for an early George Marston to meet and greet the public while supporting the festivities at this wonderful, historic setting. I telephoned CabrilloNational Monument and was put in touch with their historian Robert (Bob) Munson. At first Bob said that he thought George Marston might not be right for the time period (George Marston is more known for his accomplishments in the 20th century). I said I thought it could work because George Marston had a successful dry goods store in San Diego at 5th and F Street in 1887. Also George's wife Anna had written in her book, Records of a California Family, "excursions to… the Spanish Lighthouse … gave us long days of pleasure."
Fortunately Bob granted me an interview and I appeared as George Marston might have appeared in 1887, dressed in wool frock coat, pants, vest, bow tie, and top hat. During the interview I showed Bob my thick binder of research on George Marston. I also reviewed my years of experience portraying various characters for renaissance fairs and for the San Diego Opera (as a supernumerary). I was happy to hear Bob say that, not only was I welcome to participate in the re-opening festivities, but I was also welcome to come back weekly as a VIP (Volunteer in Park)!
Thus began my weekly visits to CabrilloNational Monument. Before I officially began to meet and greet our visitors, I wanted to have thorough background knowledge of the park. Historian Bob Munson and Volunteer Nancy Walton were instrumental in orienting me to the wonderful library and archival materials in the AdministrationBuilding. I began borrowing books and videos. I watched films in the auditorium, visited the historical displays and took hikes on the Bayside Trail and throughout the park.
I view myself as a historical actor. Establishing a historic persona to portray a historic character for living history requires researching the character and the character's historical milieu. I first find out as much as possible about the historical character and setting by using my computer and the Internet. Much local history is recorded in the San Diego Historical Society's The Journal of San Diego History, and most articles are available for free on-line. For further information I visit the San Diego Historical Society's Archives and our own library here at CabrilloNational Monument. Once I have enough information, I begin to interpret the information so that the facts make sense to me. I begin to make judgements regarding a character's experience, personality, and motivation. In so doing, a historical persona or character emerges and comes alive.
For my interpretation at the Old Point Loma Lighthouse, I developed a tool for bringing history alive to our visitors. I assembled a mini-photo album of pictures of the lighthouse, George Marston and his family, and various local sites as they appeared in 1887. This album fits inside my coat and is called upon when I want to illustrate a point as I talk to our visitors.
Dressed as George Marston of the 1880s, I was now ready to meet and greet our visitors, first at the re-opening celebration, and then once a week on a continuing basis. People of all ages told me that they enjoyed what I did. Parents with shy three and four year old children were delighted when I did my George Marston magic watch trick. George Marston's employees had presented him with a gold pocket watch, and he delighted his children by inviting them to blow upon it and enjoyed watching them burst into smiles and laughter as the watch cover "magically" sprung open. This "magic" is often repeated when I am at the lighthouse. Visitors have told me that this was their best National Park experience because I helped bring history alive in such a positive, delightful way. They said they enjoyed seeing me in period attire and seeing the vintage photos. Many said that I was key to their understanding of what life was like at the Point Loma Lighthouse in 1887.
It was mid-spring and my George Marston visiting-the-lighthouse character was well established when I showed Bob Munson a vintage naval officer's uniform that I had acquired. Bob then showed me historic photos and illustrations of the first lighthouse keeper's uniform of the 1880s. He then suggested that my body frame is similar to that of Capt. Robert Decatur Israel, who was the first keeper to wear the official uniform at Point Loma in 1888. My naval officer's uniform went to my tailor with copies of the historic photos and illustrations. I then began a second round of extensive research, this time on Robert Decatur Israel. Again I received invaluable assistance from Historian Bob Munson and Volunteer Nancy Walton as I utilized the library's resources. I borrowed a copy of Robert Decatur Israel – San Diego Pioneer and Keeper of The Light, Master Thesis by Patricia Klenner Ravits. I continued my weekly meet and greet as George Marston while also receiving guidance from Bob and Nancy as I continued to delve into the history of Robert Israel and the lighthouse. I borrowed and studied Cabrillo National Monument Oral Histories, conducted by our first park historian F. Ross Holland, along with Historic Structures and Furnishings Reports, and Instructions to Lighthouse Keepers 1881.
Researching Robert Israel also led to his interesting 21 year history in OldTown (1850-1871) where he met his wife, Maria Arcadia Alipas Machado. While there he interacted with other historical San Diego pioneers such as Thomas Whaley, Ephraim Morse, Cave Johnson Couts, Lewis Franklin, Francis Hinton, Philip Crosthwaite, Mary Chase Walker, and Agoston Haraszthy. Volunteer Nancy Walton informed me about the Descendents of Old Town Research Workshop which I then attended and thereby gained valuable genealogy information.
By mid-summer my naval officer's uniform had been transformed into a period-correct, 1884 lighthouse keeper's uniform. Lee Radzak, Historic Site Manager for Split Rock Lighthouse, and Bob Munson helped me to find the appropriate hat and insignias to complete the uniform. Cabrillo National Monument Foundation assisted by providing the appropriate U.S. Light House Establishment (USLHE) buttons.
Bob and Nancy also allowed me to closely examine newly acquired lighthouse keeper's tools and records that would eventually go on display in the Assistant Keeper's Quarters, adjacent to the lighthouse. I also viewed the re-assembly in the Assistant Keeper's Quarters of the 3rd order Fresnel lens from the New Point Loma Lighthouse (which would also go on display). Firsthand exposure to these items facilitated my understanding and helped me to better tell the lighthouse story to our visitors.
I then updated my own teaching tool, the mini-photo album. Now it contained photos of Robert and Maria Israel, towns-folk visiting the lighthouse, the lighthouse grounds of 1887, and plants that the Israel family grew at the lighthouse.
Now each week people recognize me as the lighthouse keeper as I walk up to the lighthouse to meet and greet visitors from all over the world. Each visitor gets a unique greeting depending on what I hear them discussing as they approach. Sometimes I hear them say, "This wasn't here when I was here before!" or "Why is all this concrete here? They didn't have that back then." I smile and politely say that they indeed had Portland Cement "back then" and that this is how the lighthouse and surrounding grounds looked in 1887. I then pull out my photos of the lighthouse grounds in 1887 and watch the visitors smile in amazement. I then explain how adequate fresh water was always a big concern for the lighthouse keepers and their families. I explain how rainwater was caught and saved and how fresh water was obtained when the cisterns ran dry.
Some visitors were so impressed that they asked me to give a lecture to their local historical society. So I developed the lecture Captain Israeland the Pt. Loma Lighthouse, which has been well-received.
Researching Robert Israel has led to researching others who he had contact with at the time, such as Thomas Whaley. I have portrayed the character of Thomas Whaley for OldTown's Whaley House production of "Spirits of the Past". The fun of this ongoing research is that as more of the pieces of this historic jigsaw puzzle fall into place, the whole picture becomes more understandable and easier to bring joyfully alive for the enlightenment and enjoyment of others.
Our visitors have told me that they leave with a better understanding of the important work that we do at CabrilloNational Monument. They say that they are impressed by our good work of preserving our historic treasures (the lighthouse and grounds), and also in bringing history alive and giving people an appreciation of what life was like in this part of the world in 1887!