Tidepool Permits
If your group is larger than 10 persons and you wish to visit the tidepools, a free Tidepool Permit is required. Click here for more information on obtaining a Permit.
VEHICLE ACCESS - PLEASE NOTE
Please remember that access to the coastal area is only by vehicle via Cabrillo Road. Travel by any other means is dangerous and not permitted. There is no pedestrian access. Parking is limited, so we encourage carpools or bus transportation.


Did You Know?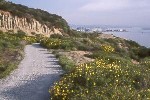 Did you know that the coastal sage scrub habitat found at Cabrillo National Monument is one of the most endangered ecosystems in the world? Only 10-15% of the original habitat now exists. Once the dominant ecosystem, the coastal sage scrub community now only exists in small remnant pockets.