Visitor Center Scheduled to be Closed Until Mid to Late July

The Visitor Center is undergoing a Seismic Retrofit. Visitors will still be able to access the Auditorium, Ballast View and the East Patio. These dates are subject to change. Please call 619 557-5450 for updated information
Teacher-Led Visits
You are welcome to lead your own field trip at Cabrillo National Monument. No reservations are required, but you may wish to apply for a fee waiver. If you would like to visit the tidepools, you will also need to apply for a tidepool permit.
For topic information, or for ideas to help you construct your field trip, review the Teacher Packets for Ranger-led activities, and the Suggested Reading list. For a fun activity for your students at the park, feel free to download the Scavenger Hunt. And don't forget to check out our film programs!


Did You Know?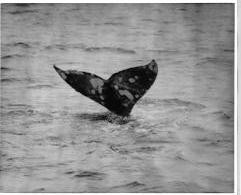 Did you know that Pacific Gray Whales can dive to more than 200 feet and can stay underwater for as long as 20 minutes?